These 4 Qantas cabin crew loved visiting Coldstream Hills' cellar door and trying their wine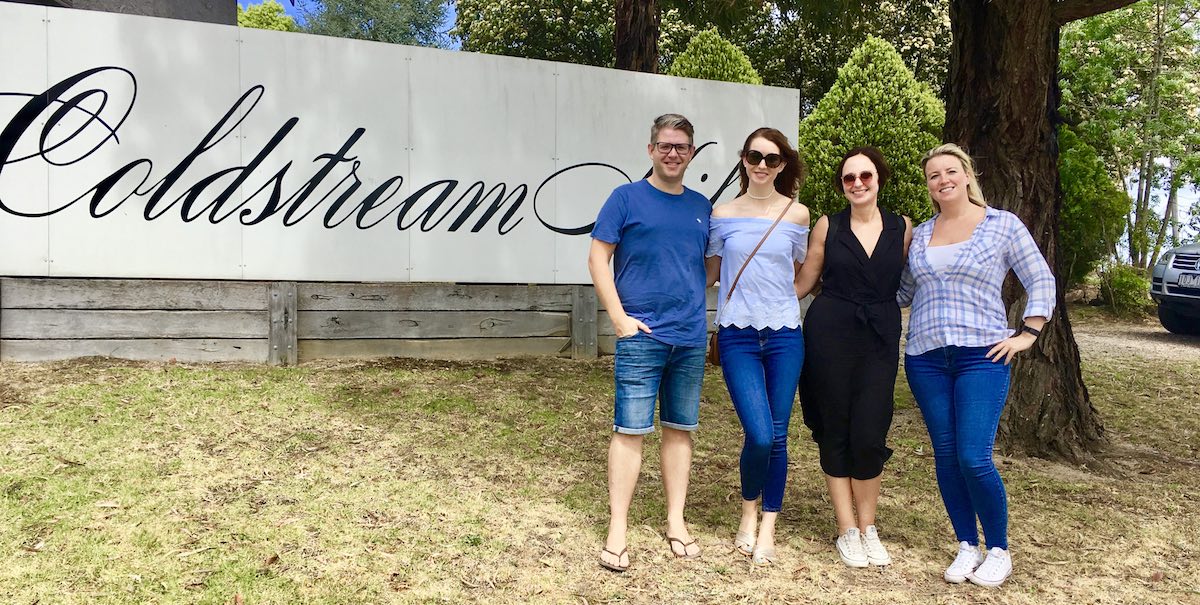 Greg's request for a wine tour came through on facebook at 10.35pm
and by 9am the following day we'd locked in the itinerary for a half day tour that very afternoon.  Jeff drove out to meet the four crew members in Melbourne at 1pm took them out to the Yarra Valley for their half day wine in glorious sunshine (we'd arranged that as well!).  Greg and three fellow Qantas crew were on a stopover in Melbourne from the UK and wanted to make good use of the few hours they had here.  And given that they serve Coldstream Hills wine to their first class passengers, this was one of the wineries they requested to go to.  It was also a very busy weekend in the valley with Shed Fest on, so we rang out a few wineries and booked them in for tastings and soon had a great afternoon worked out for them.
Jeff met them outside The Windsor Hotel in Melbourne at 1pm and drove them out the valley.  It was a stunning day for it and they'd had enough of a rest having flown in the night before and were now raring to go.  First stop, booked in just a matter of hours ago – Coldstream Hills – established by wine critic James Halliday back in 1985.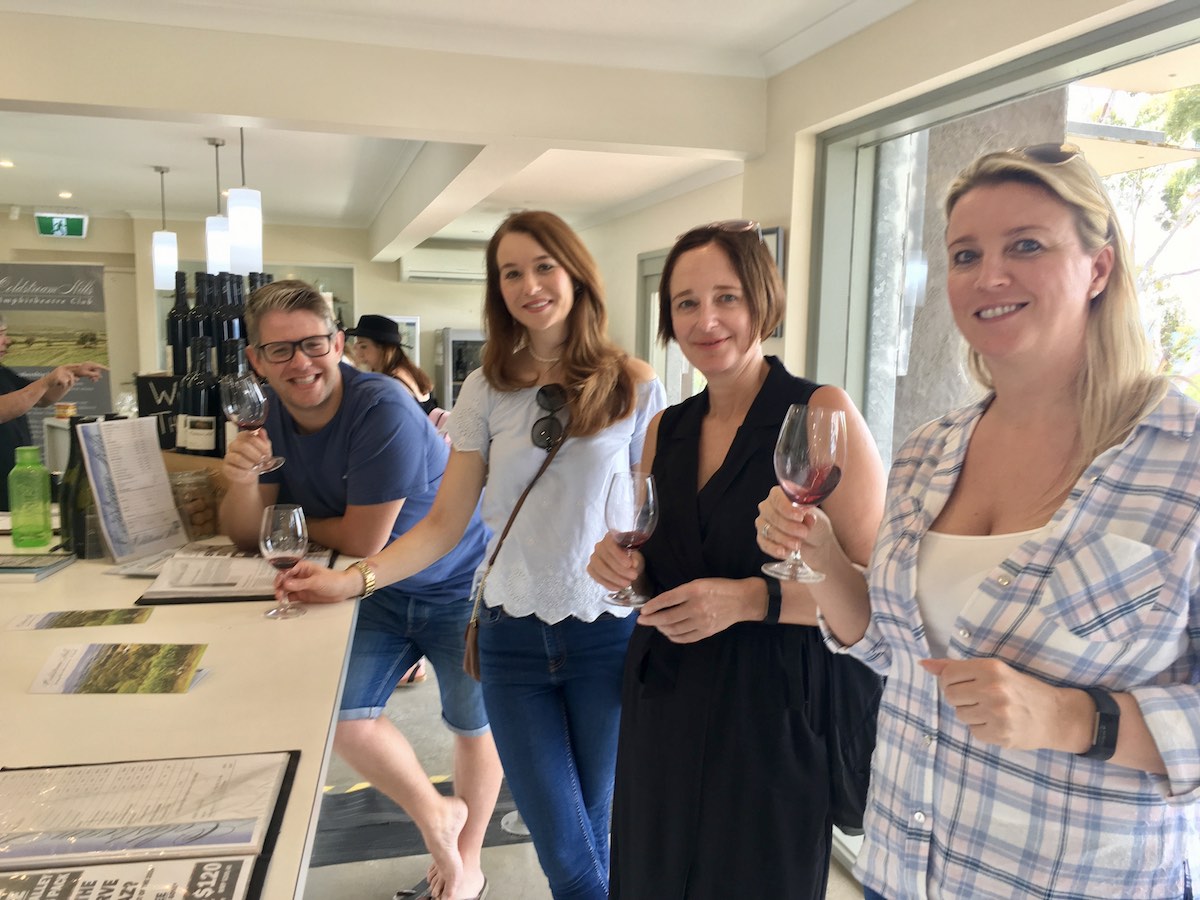 Josh gave them a great and informative tasting at the cellar door and they enjoyed tasting what they serve to their passengers and can now tell their customers they've been to the winery's actual cellar door and had a guided tasting!!
Jeff had then arranged for them to have a VIP visit to one of the Yarra Valley's best kept secrets – boutique winery and cellar door Maddens Rise.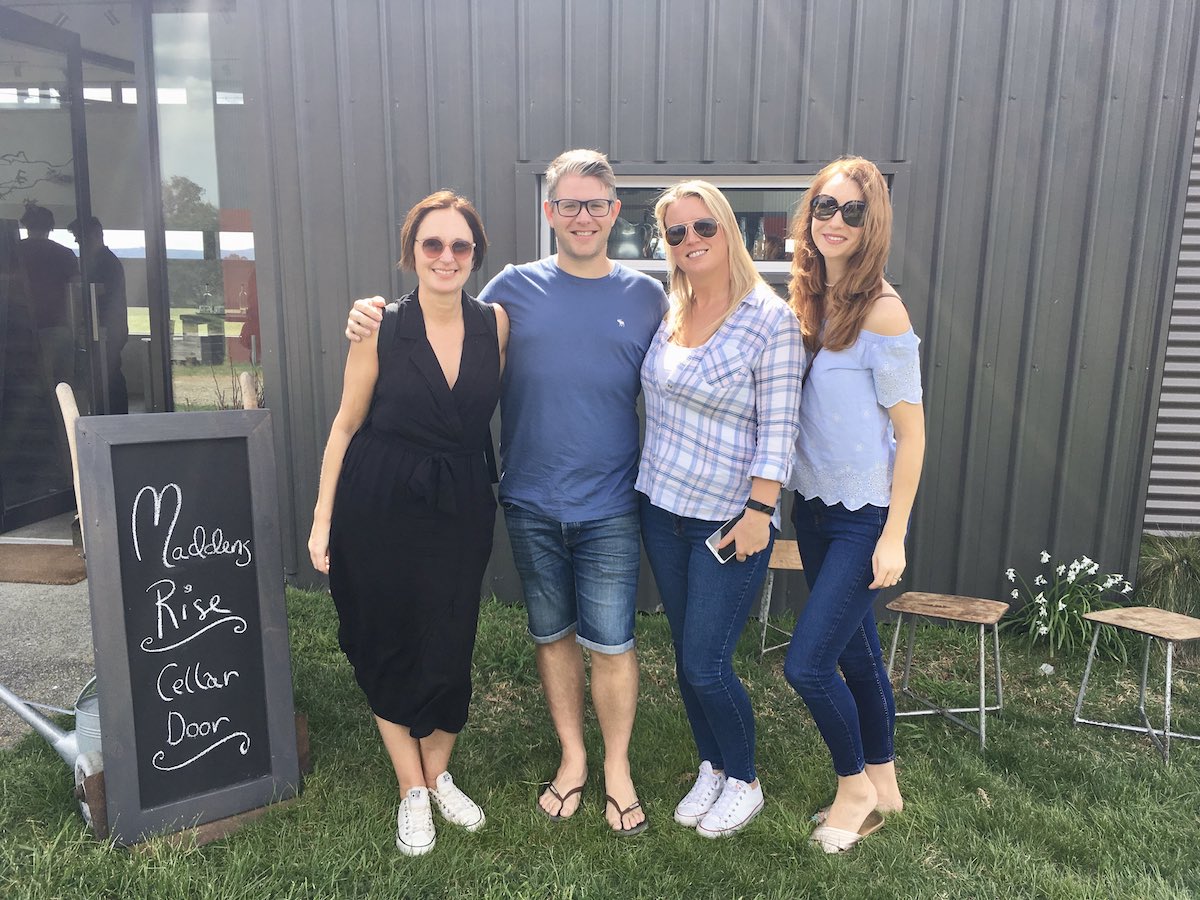 Not available for tour groups, due to their teeny tiny size, Maddens Rise is owned by Justin and Emma and Em was there to great our guests and make them feel special as she took them through their flight of wines.  Greg knew his hubby back home would love MR's Bordeaux Blend Cinq Amis (meaning 5 friends, referring to the blend of 5 grape varietals that make up this wine – Cabernet Sauvignon, Merlot, Cabernet Franc, Malbec, Petit Verdot) so bought him a bottle as a special treat.
Here's the gang with Emma from Maddens Rise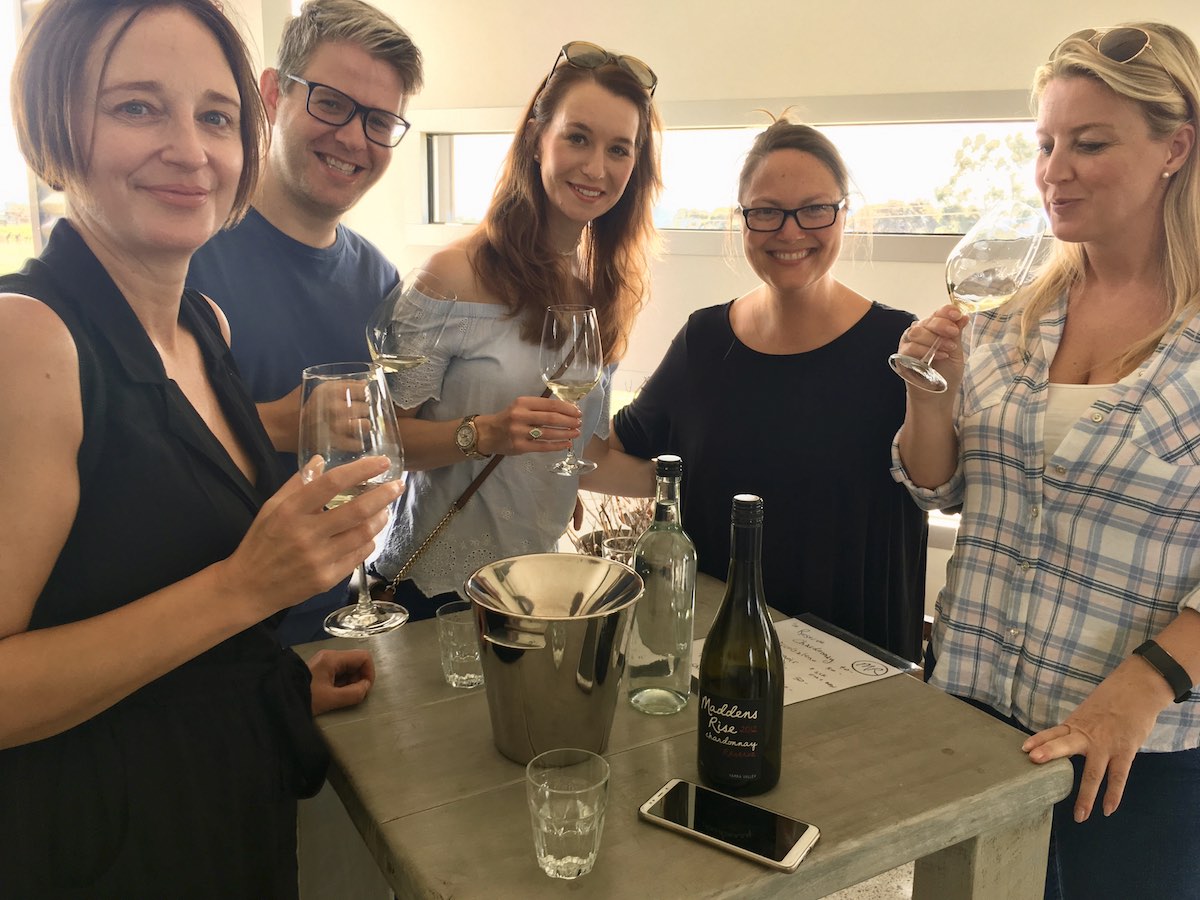 Maddens Lane is surrounded by paddocks in some of the finest terroir in the Yarra Valley and the friends loved Em's passion for her wines.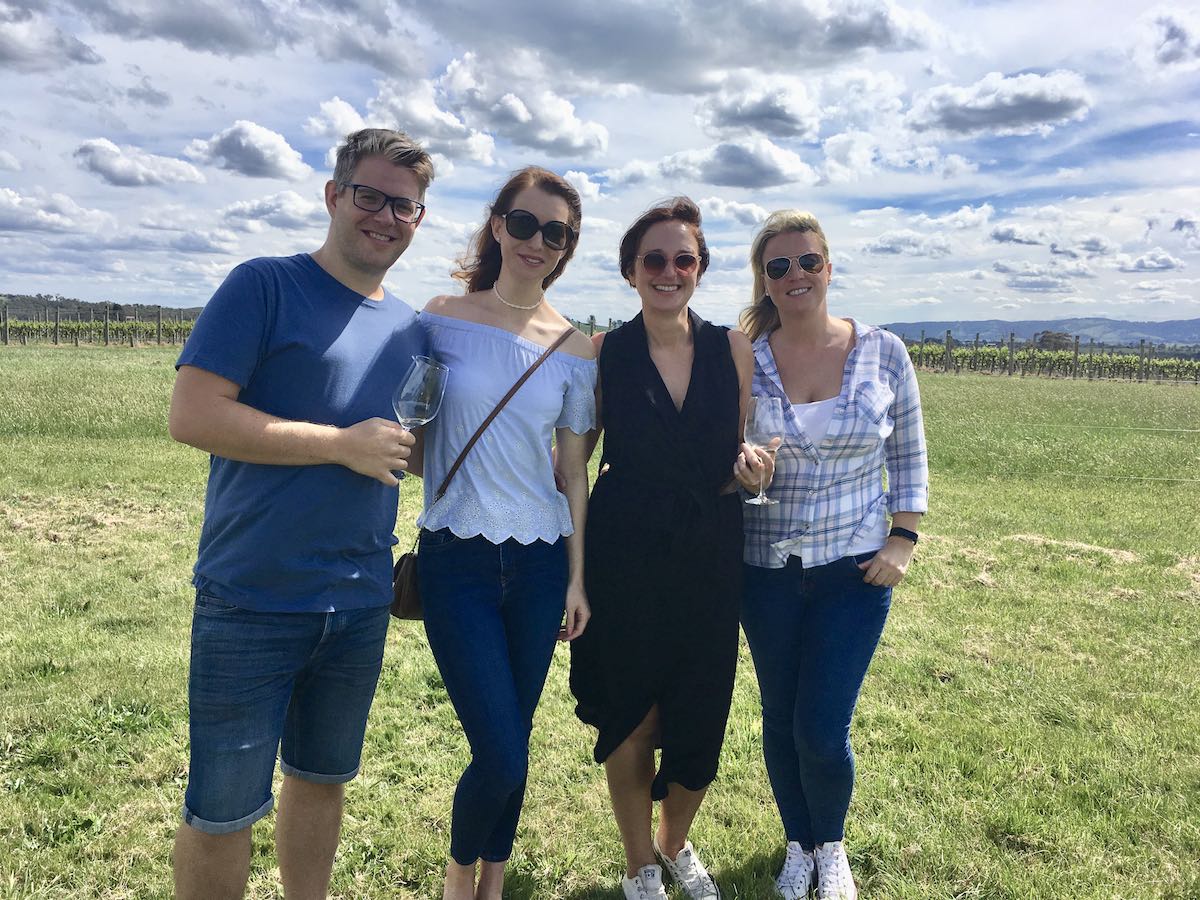 Jo particularly liked her visit to Maddens Rise as she's doing a barn conversion back in England so was busy measuring up in her head and getting ideas!
After fond farewells and promises to visit again soon, the gang piled back in the van and Jeff drove them across to TarraWarra Estate knowing they would love the hobbit style cellar door built into the side of a hill (imagine how gorgeously cool it will be in mid summer – divine!).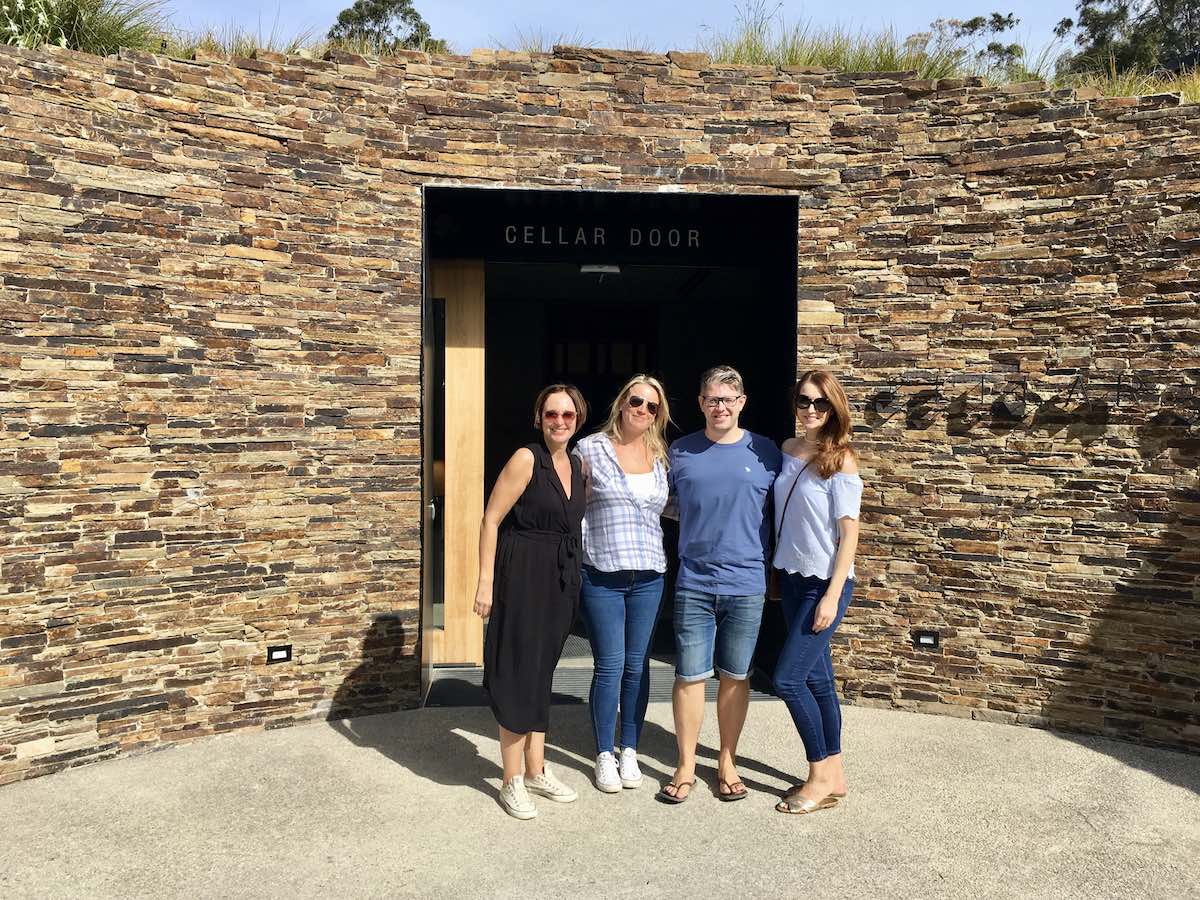 They DID love the setting and the wines they tried too and bought a bottle of TWE Reserve Pinot to enjoy sitting on the pepper tree deck overlooking the vines and the dam.  It is a pretty special way to end your day, sitting watching the sky, the birds, the view and before they knew it, it was time to hop back into the van for Jeff to drive them back to the city.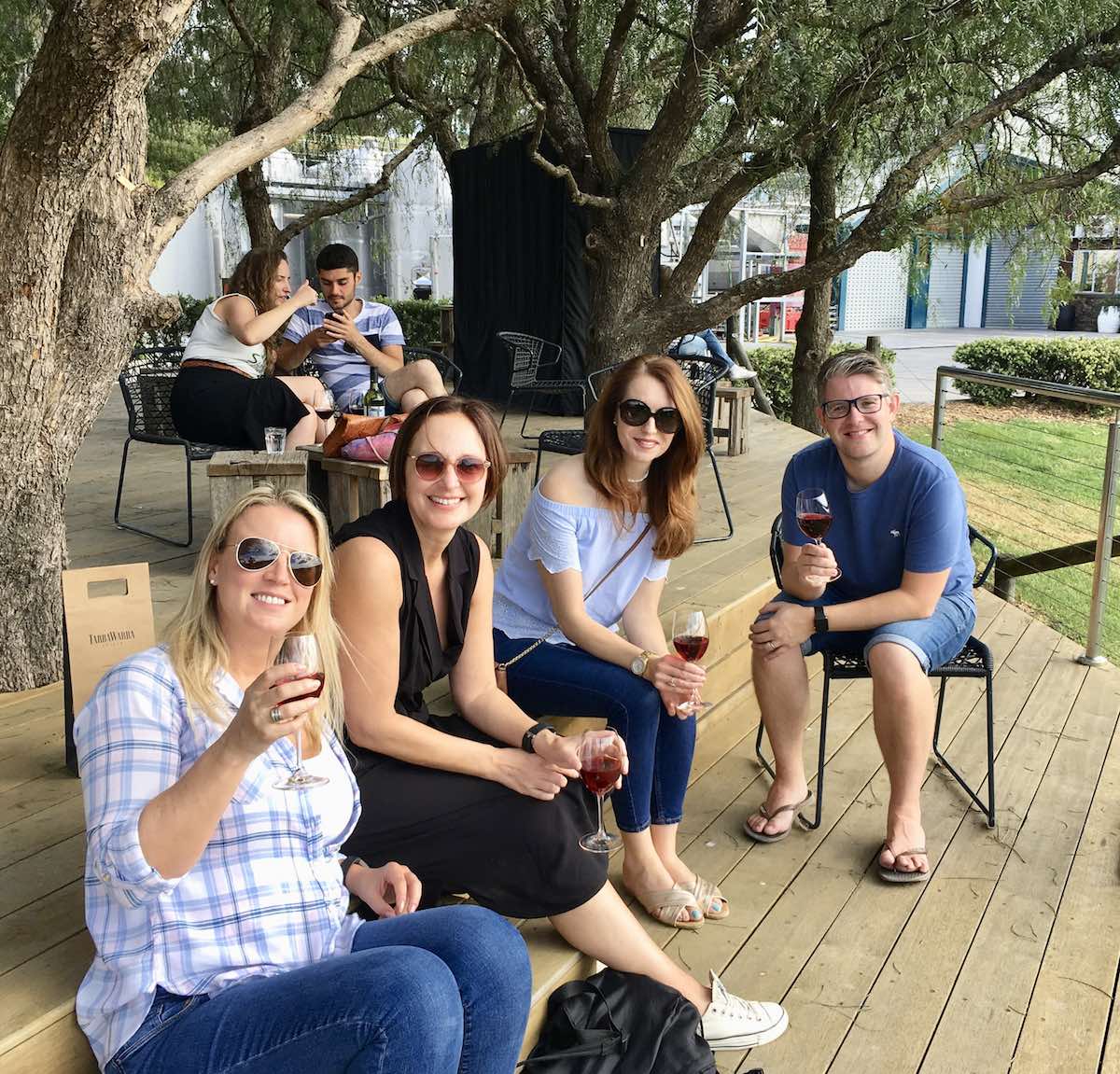 They had a ball, and aside from one of the girls leaving her purse in the van (poor Jeff had to turn around and drive back to Melbourne with it) it was a perfect afternoon's tour all round.  As we explained to the friends, we have over 70 cellar doors in the Yarra Valley, so a few more tours are a must and they already know they want to visit Chandon next time they come out on tour with us.
If you only have half a day for a Yarra Valley tour but would love to fit in as much as you can in that time, let us know and we'll see what we can arrange for you.