Daniel and his colleagues and girlfriends had a great day out, sipping and sampling their way round the Yarra Valley.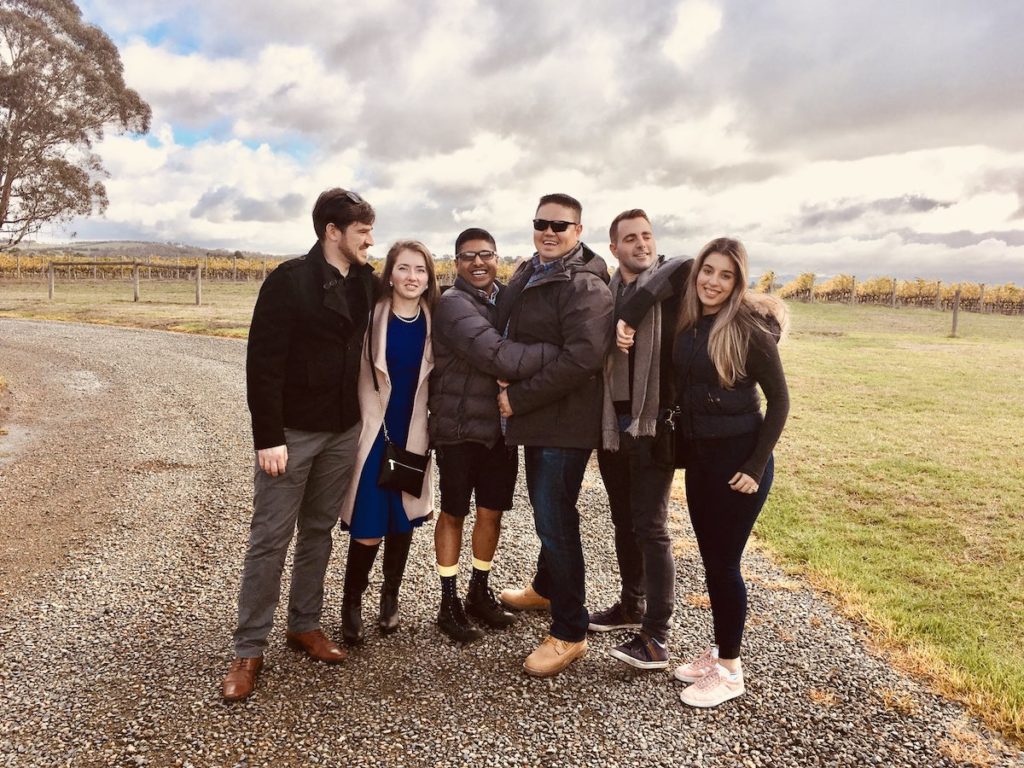 Jeff collected Daniel and crew from Essendon and drove them out to the Yarra Valley.  After an emergency wee stop in Yarra Glen (I know – and this was before anyone started drinking!), we went to the Yarra Valley Dairy for a cheese tasting where a couple of them bought some of their specialty cheeses.  They hadn't been to the dairy before so were very taken with the building and the fact that the cheeses are literally made there onsite.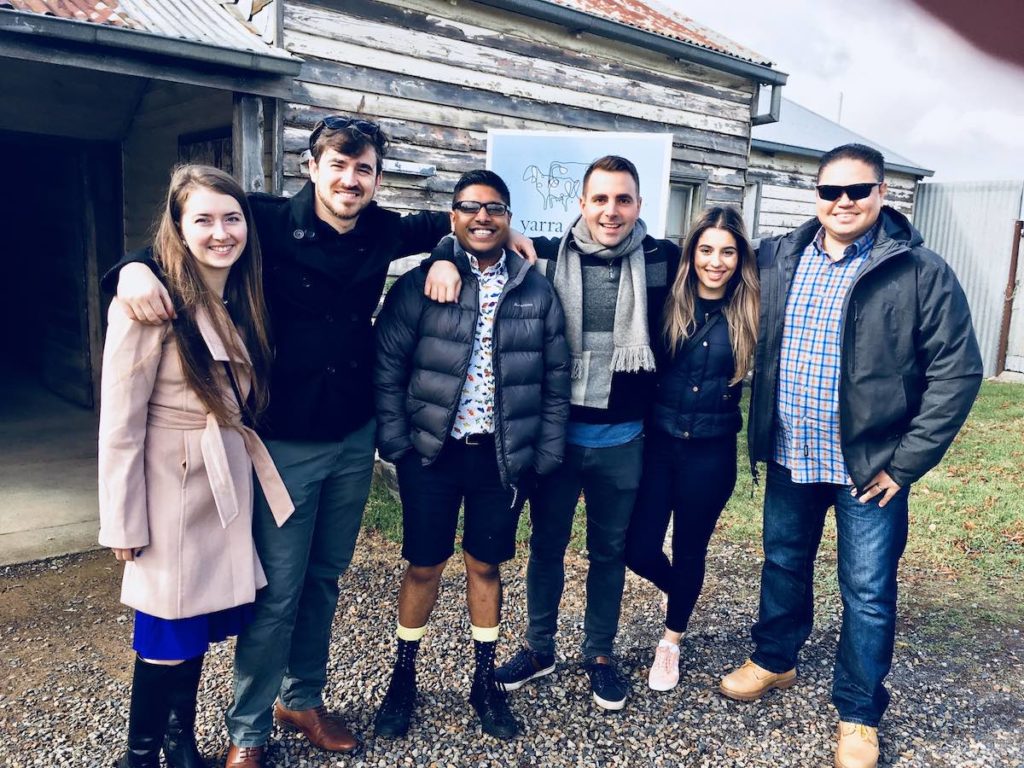 Then we drove over to Healesville to Four Pillars Gin Distillery (a 4th visit for one of the girls!) where they each enjoy a paddle and then bought up most of the contents of the shop – Michael bought 3 bottles of Navy Strength gin and Simon bought Negroni and marmalades!  The lady photobombing in the centre of the photo at the back, is the lovely Joan, owner of Tour the Valley, who was at Four Pillars with her own tour, and couldn't help herself!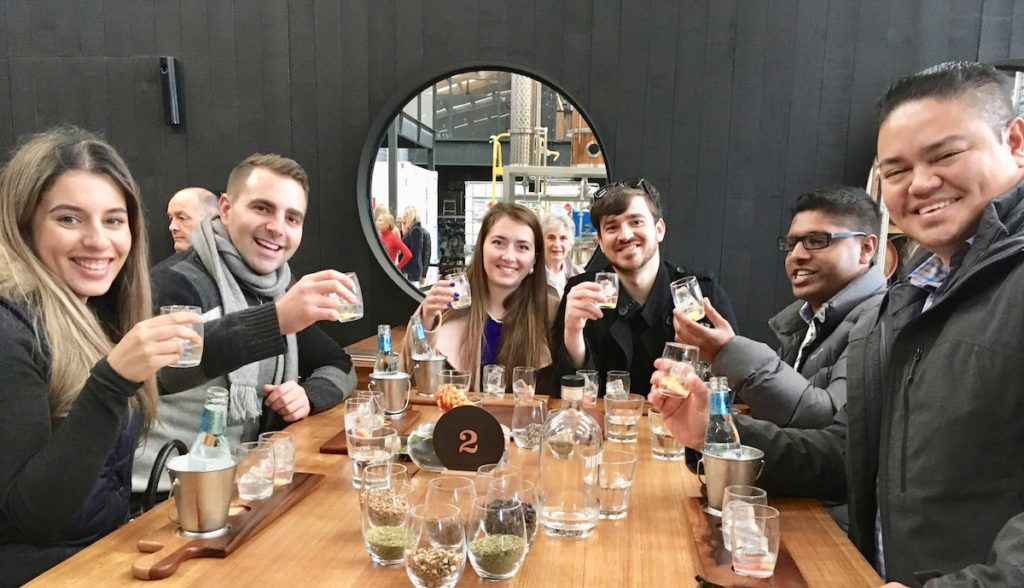 It was now time for some lunch so we drove over to Innocent Bystander for a quick wine tasting 'on tap' before a slap up lunch of paellas, pizzas and truffle fries, with wine, and all enjoyed it immensely.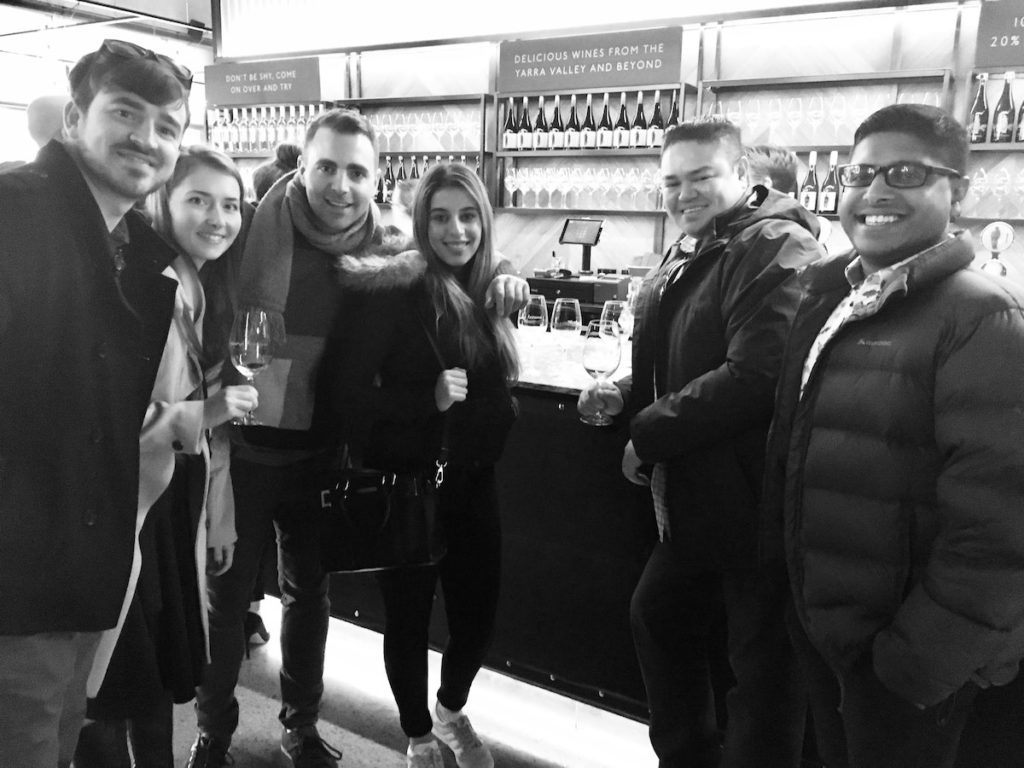 More purchases were made – good job we had a large minivan with us!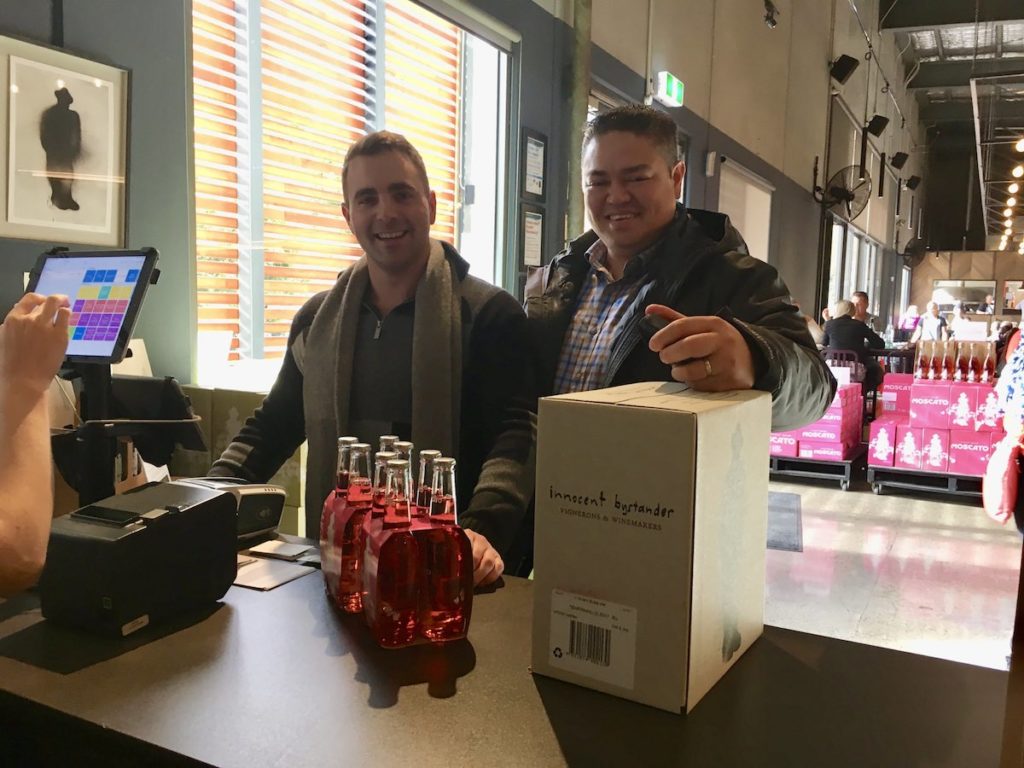 Maddens Rise was our next port of call, a lovely boutique cellar door where the fabulous Ben was on his own (as Em is swanning around in Italy), so he was juggling a few groups for wine tastings.  Mitz attempted to be helpful behind the counter, tho' his rubbish wine knowledge let him down.  After they'd enjoyed Ben's guided tasting, and he's so informative, Jeff and the crew helped clear up their glasses before they hit the road again.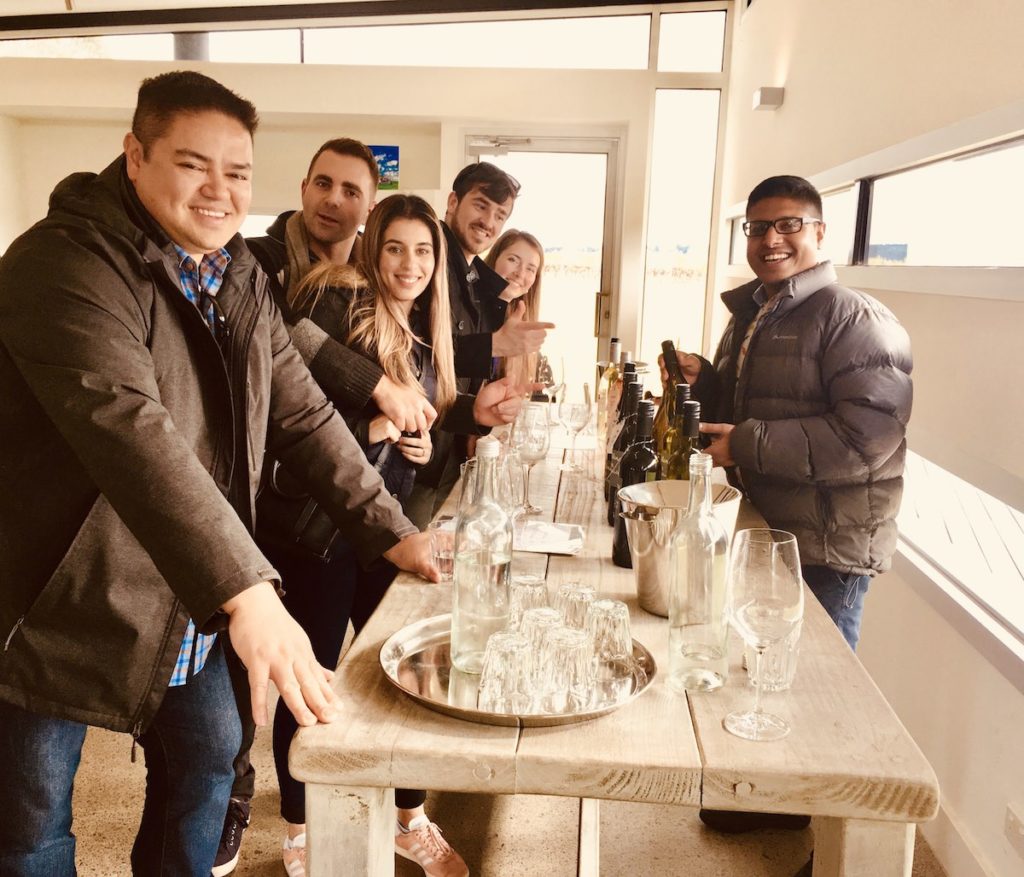 The group had requested a cider and beer tasting paddle at Meletos so Jeff headed over there next.   But given the amount everyone had already eaten and drunk, the paddles proved too much for them.  And as though that wasn't enough for their poor stomachs, we then snuck in ice-creams at the chocolaterie!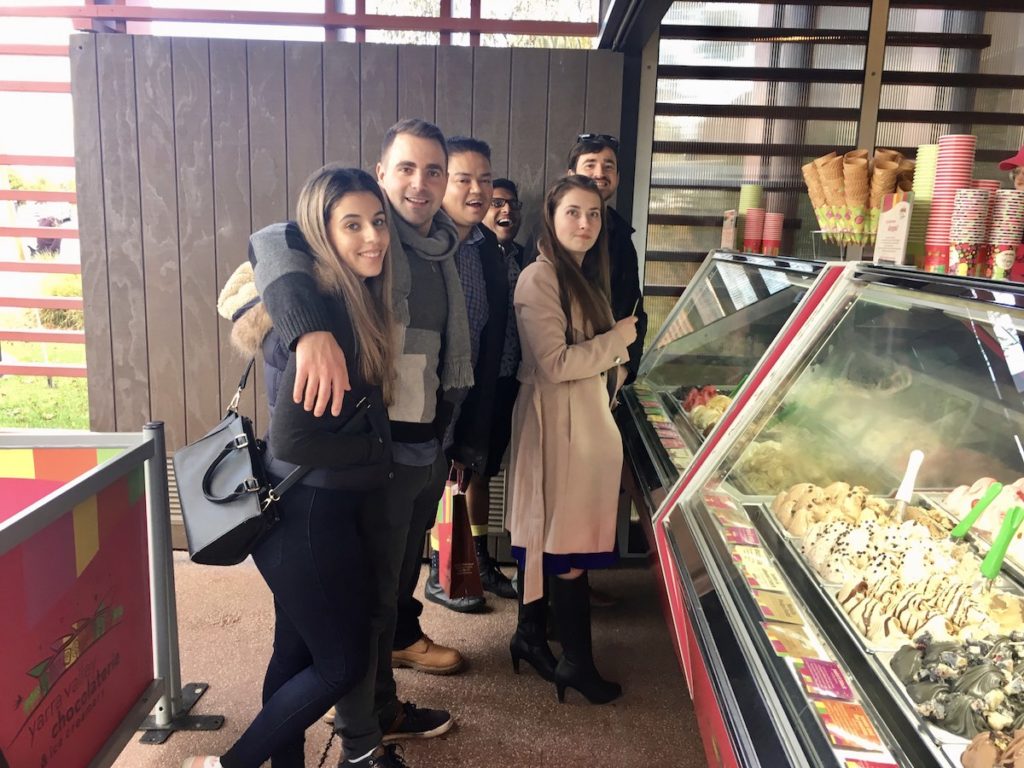 It's a miracle that with piggy backs like this and on the winding drive back through Christmas Hills, that any of them managed to keep it all inside!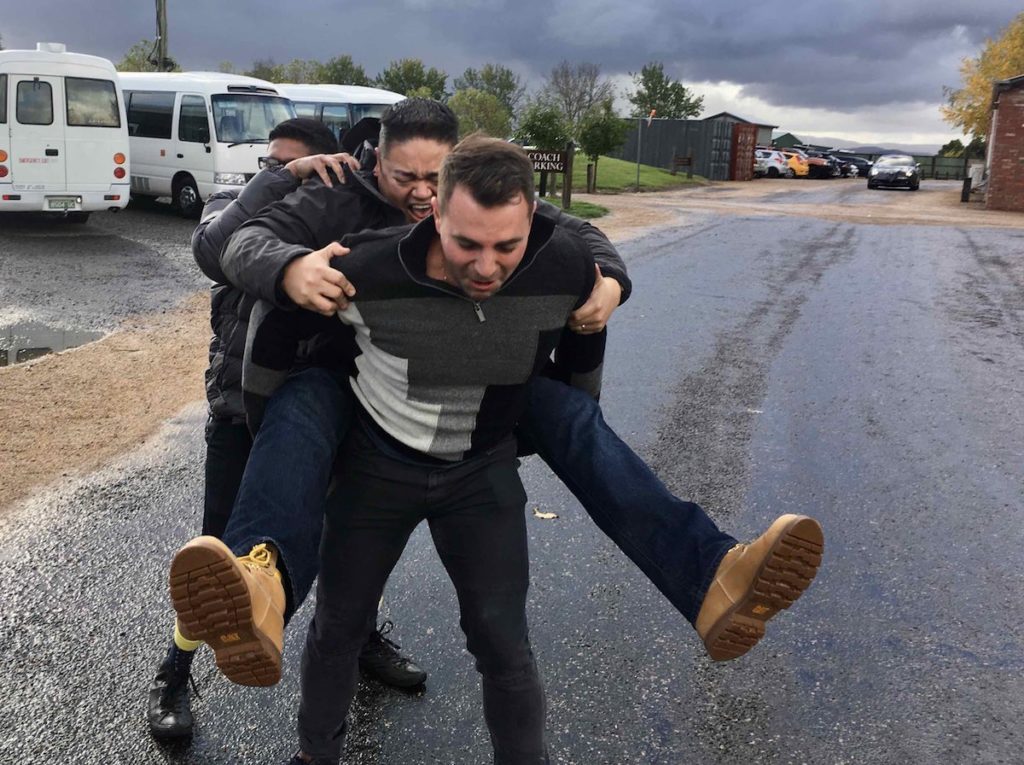 And when they got back to Essendon, Jeff was asked to drop them at a local pub, where, extraordinarily, they were looking forward to a quiet drink or two!! 🙂
If you like the sound of a tour like this – get in touch – fill out our questionnaire and we'll get back to you with a quote.