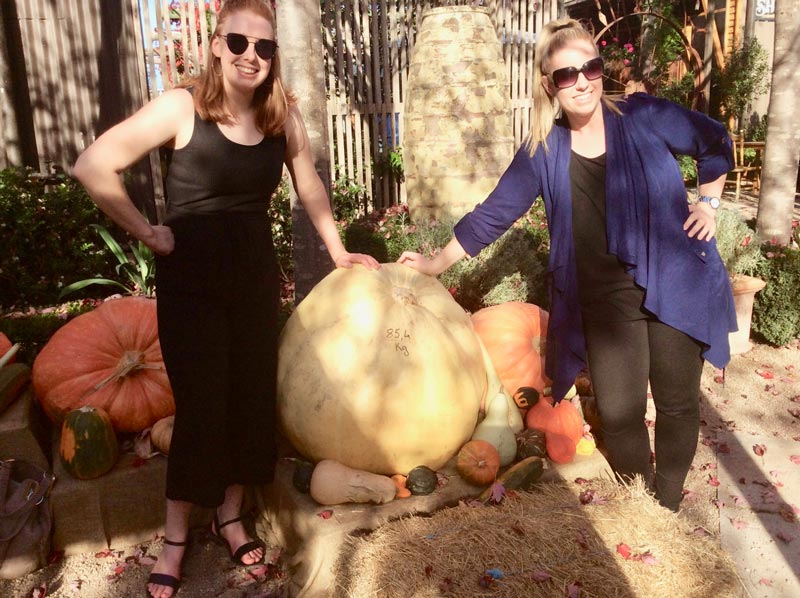 If you're catching up with your cousin who you haven't seen in ages you're going to want to talk and laugh and take as long or as little time as you want, at each venue you visit, rather than follow someone else's timings and itinerary. So you'd be wise to do as Kathryn and Jess did – and book a private tour for yourselves where you get to agree the itinerary. And top tip – ask for Joan and you'll have a giggle all day, spilling drinks in your handbags, and ice-creams up your arm!
Joan collected Kathryn and Jess from Yarra Valley Lodge on Monday – the two cousins were excited about spending time together and sensibly decided to spend the night here and really make the most of their time together in the Yarra Valley.
Joan worked with them prior to their tour to work out their preferences, fit in a specific winery they were keen to try, cater to their dietary requirements and style of lunch they were after. Their first stop was Yering Station for a wine tasting in the fabulous 100-year old brick cellar door which doubles as an art gallery and a look around the amazing restaurant and cellar.
Then Joan whisked them off to Greenstone Vineyard for a tasting with the lovely cellar door manager Joanne and they enjoyed visiting a more boutique winery  and loved the great view.
They had heard of Innocent Bystander, the winery in town, (https://www.innocentbystander.com.au/) and had requested we take them there for a tasting which they thoroughly enjoyed, propping up the bar with the whole row of gleaming draft taps (the wine is poured on tap like beer) shining away in front of them. They loved the atmosphere and liked the idea of Moscato Slushies too, but thought they'd save that for a summer's day.
As they wanted a relaxed casual lunch we visited Badger Creek Blueberry Farm where owner Alison made up a lovely Grazing Platter accompanied by her fab home-made sausage rolls which the girls enjoyed sitting outside on the patio as it was such a beautiful day – the last of the late summer – just perfect. Well, until Kathryn knocked a glass of water into her bag – we're still not sure how she managed it!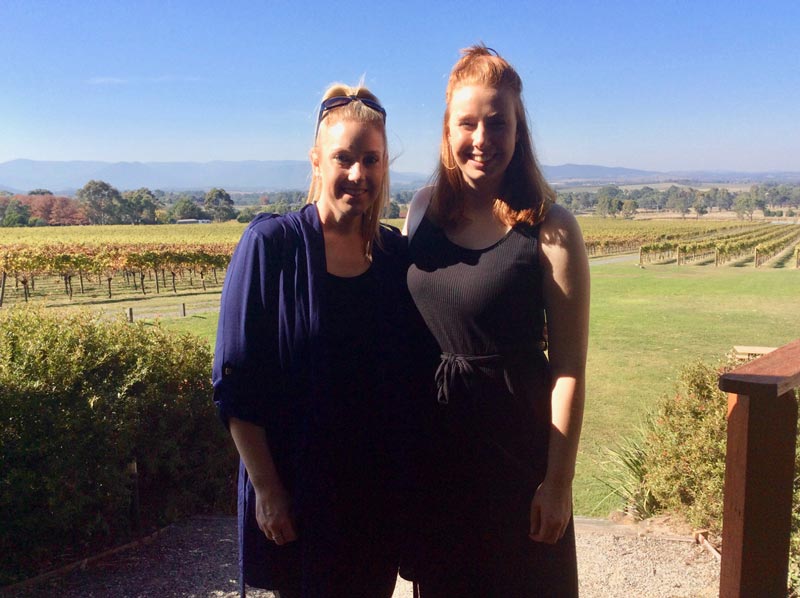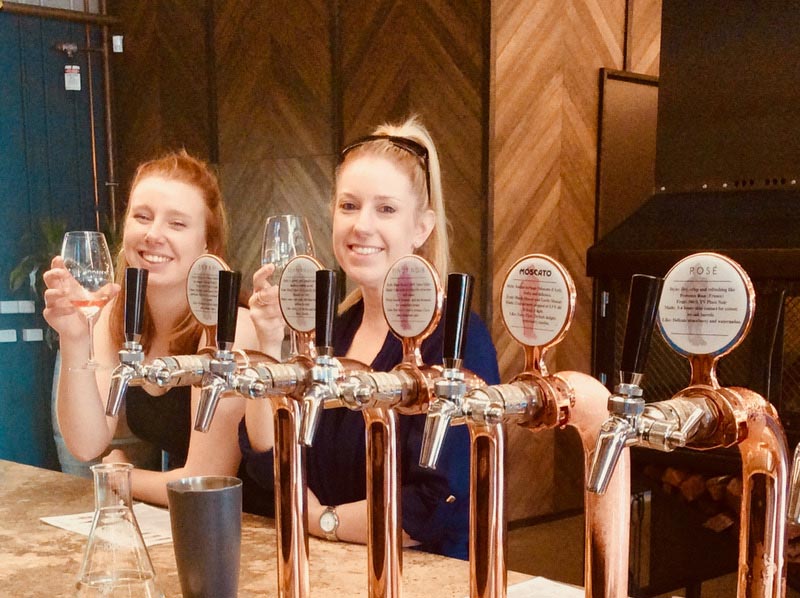 Chocolate was next on their list of wants so we drove the beautiful drive over to the Chocolaterie for some choccie tastings and as the sun was shining, we couldn't resist having one of their sensational ice-creams – but this time it was Joan who disgraced herself, dropping hers all over the table and subsequently up her arms – very sticky. Not what you expect from a tour guide! Honestly!
Then, to finish off their super day, they enjoyed walking around the beautiful Alowyn Gardens and admired the pumpkin competition display – some of the squashes weighed in at over 80kgs! Jess decided it would be worth a return visit with her Mum in the spring – we agree – spring is a particularly special season at Alowyn with the wisteria walk in full flower.
Joan drove the pair back to Yarra Valley Lodge after a lovely, varied day, filled with memories from visits to so many different venues.
If you'd like to create your own private tour with us, fill out our questionnaire and we'll get back to you with some suggestions and together we'll work out a great tailor made itinerary, just for you.