Celebrate your 50th birthday in style – like these four girlfriends – who had TWO 50ths to celebrate!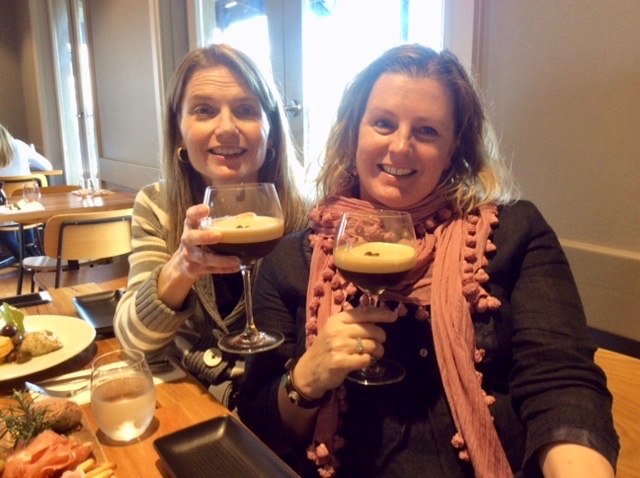 Espresso Martini's after lunch at Tramonto seemed appropriate!
These four girls have been friends since primary school and share house days in their twenties, so had heaps of stories to laugh over.  They took two days to enjoy the Yarra Valley, starting off with relaxing hot stone massages and beautiful facials on Friday afternoon at Piaf Day Spa before retiring to their scenic B&B at Brentwood Cottages for wine, nibbles and yet more reminiscing.
On Saturday morning after a lovely walk in the sunshine the group were collected by Joan (Kylie's Mum) and were whisked off to French winery Dominique Portet for their first wine tasting of the day.  And what a great day they'd chosen to visit – Bastille Day – and the French flags were out in force.  Tearing themselves away from the French celebrations, their next visit was to Badger's Brook cellar door where they enjoyed their wine tasting outside in the welcome winter sun.  Lunch was at Tramonto, literally right next to the cellar door, so the group wandered through to the beautiful dining room filled with sunlight, for a great casual lunch sharing platters and entrees as the hilarity and stories of years gone by continued.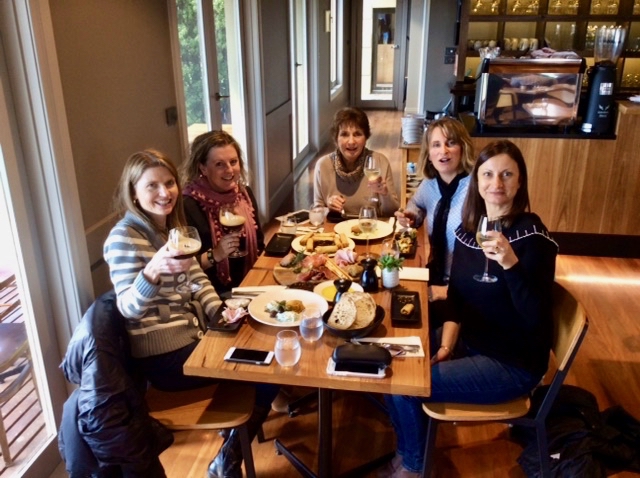 Once the martinis kicked in, Joan took the group off to Helen & Joeys winery to meet Bruce the unicorn and not happy with just sitting on him, Kylie decided to lie precariously along his back.  Bruce was thrilled and miraculously no injuries were incurred.  They had a super wine tasting in the sun on the deck marvelling at the incredible view and loving the red wines in particular.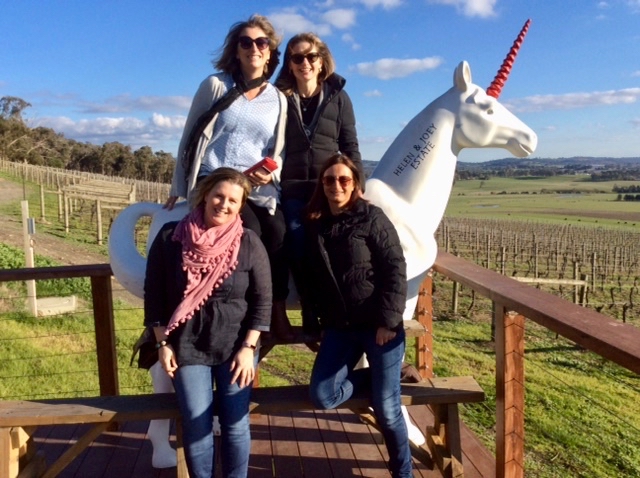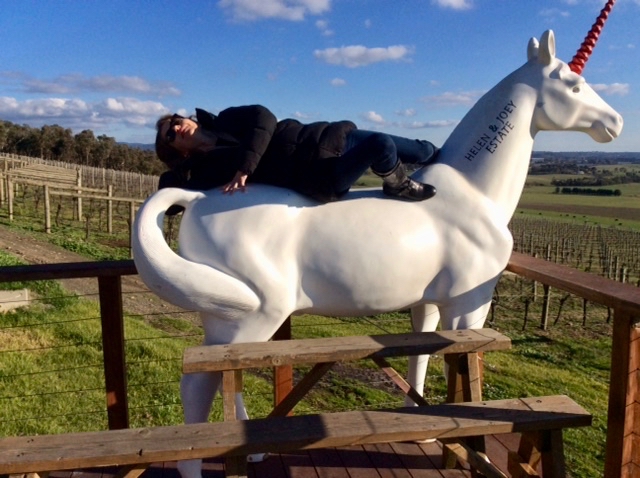 Most people would be ready for a sleep by now but the espresso martinis were working a treat, so Joan took the group off to iconic Four Pillars Gin which they had heard so much about.  By now, on a sunny Saturday afternoon, Four Pillars was at its busiest so a gin tasting was going to be hard to come by, the girls decided to buy a bottle of Bloody Shiraz gin, stock up on tonics and take them back to their B&B to tuck into later.  Four Pillars kindly gave them blood oranges to take and enjoy with their gin so that they would get the full experience.
It was a wonderful day for the friends and for Joan, getting to show her daughter the wine region region bathed in sunshine – you really can't beat a sunny winter's day in the stunning Yarra Valley.
If you'd like to chat to us about putting together a similar sounding private Yarra Valley or Dandenong Ranges tour for you and your friends, get in touch and let's plan a fabulous day out for you all.