Amanda and Kevin loved comparing their wines from the Hunter Valley with ours in the Yarra Valley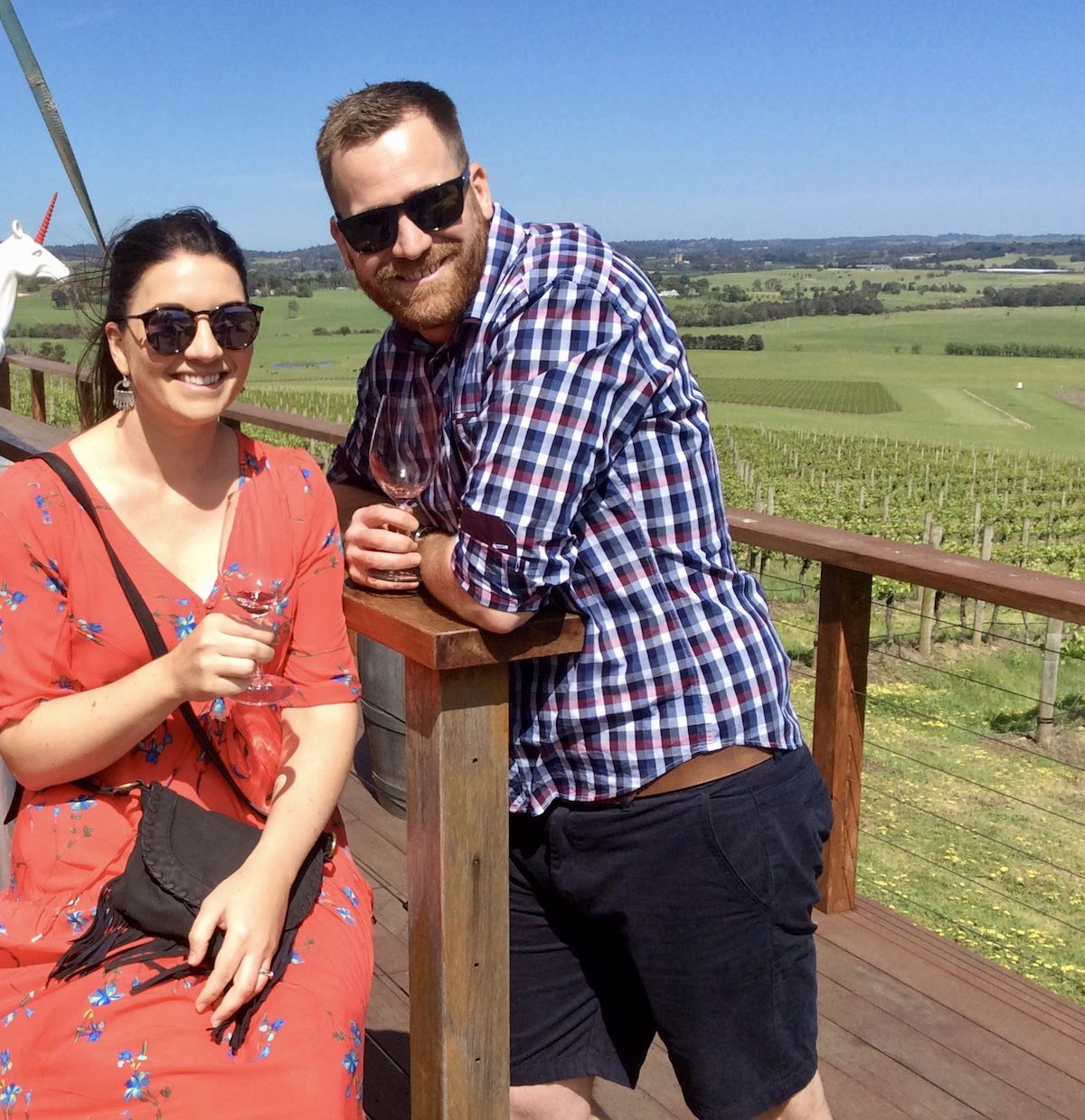 Bet they don't have unicorns in the Hunter Valley?
Amanda and Kevin were visiting the Yarra Valley from their home in the Hunter Valley so were keen to try the wines and experience the difference.  Joan collected them from their pet friendly accommodation Wiggley Bottom Farm where their Dalmation Narla was having the best doggy holiday playing with resident Dalmation Polly.  Narla was being looked after at the nearby kennels for the day while her 'helpers' enjoyed a private day's touring day with Joan.
Joan had worked out a great diverse day's itinerary for them which started off at St Hubert's winery, with a great tasting with Shane and the pair loved the wine so much (even at 10.15am!) that they bought some for presents for those back home.  They then drove the short drive up to Helen & Joey's to meet Bruce the unicorn, have a quick ride on him and enjoy another tasting, out on the deck in the sunshine.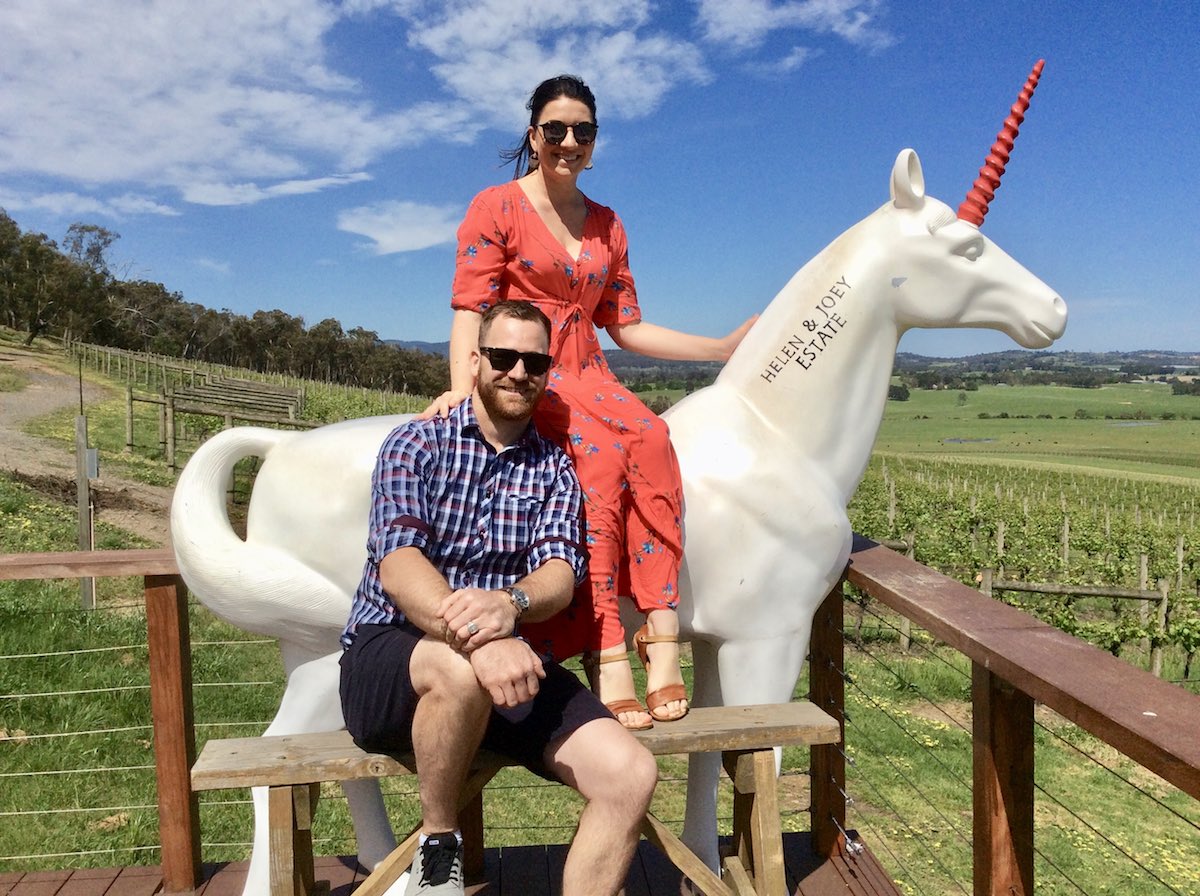 After Helen & Joey's Joan took them to Punt Road for a great tasting with Katie and many a discussion about making lasagne and the importance of adding/drinking Punt Road wine, resulting in the purchases of many more bottles to add to the collection in the car!
Lunch was next on the day's agenda at Innocent Bystander, the winery in the town of Healesville, where they enjoyed their wine tasting prior to lunch and Amanda loved the Prosecco so enjoyed a glass of it with their share platter (good photo bombing from Martin below).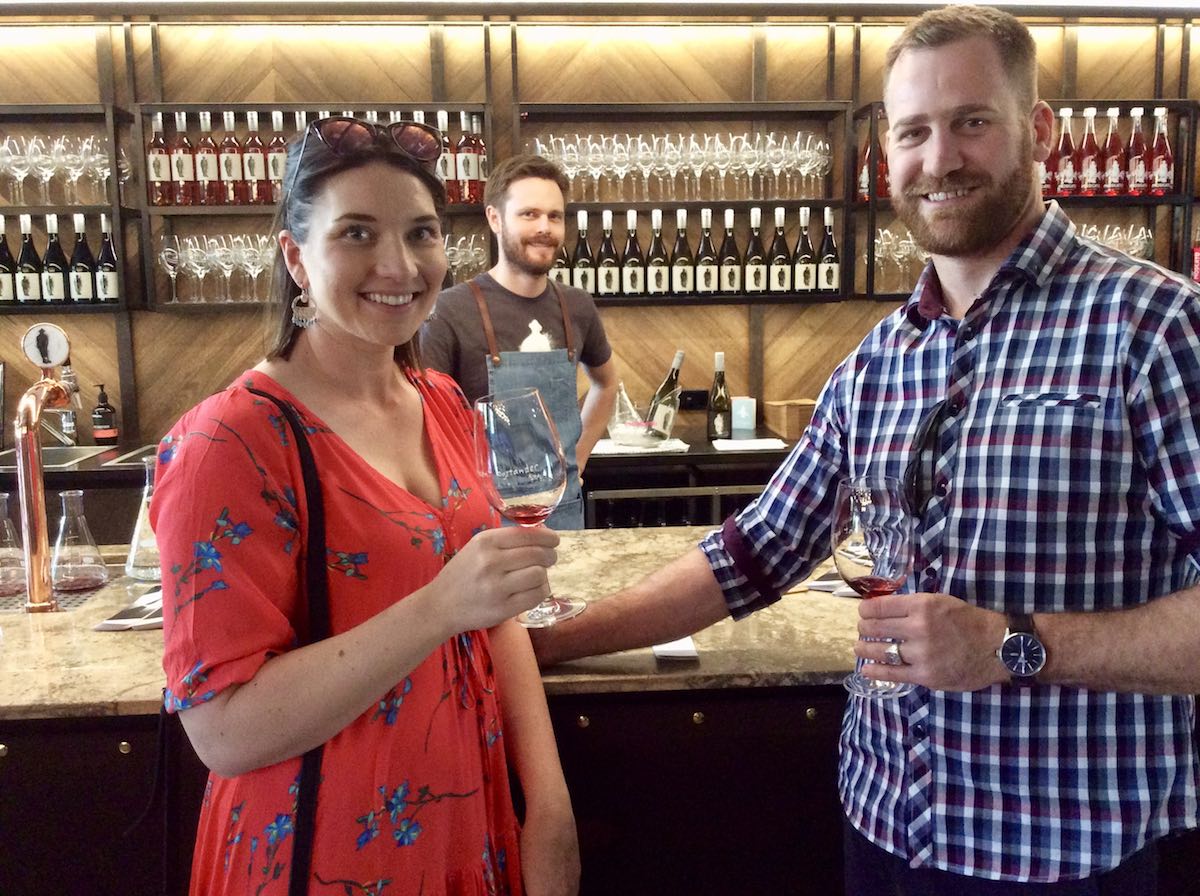 After lunch Joan took them to Watts River Craft Brewery as Kevin was keen to try a local Yarra Valley beer – and brewer and owner Ben took him through their boutique range of beers.  As it was such a glorious afternoon, they sat out in the sun in the courtyard enjoying a glass of beer each and playing with Ben's stick-obsessed kelpie.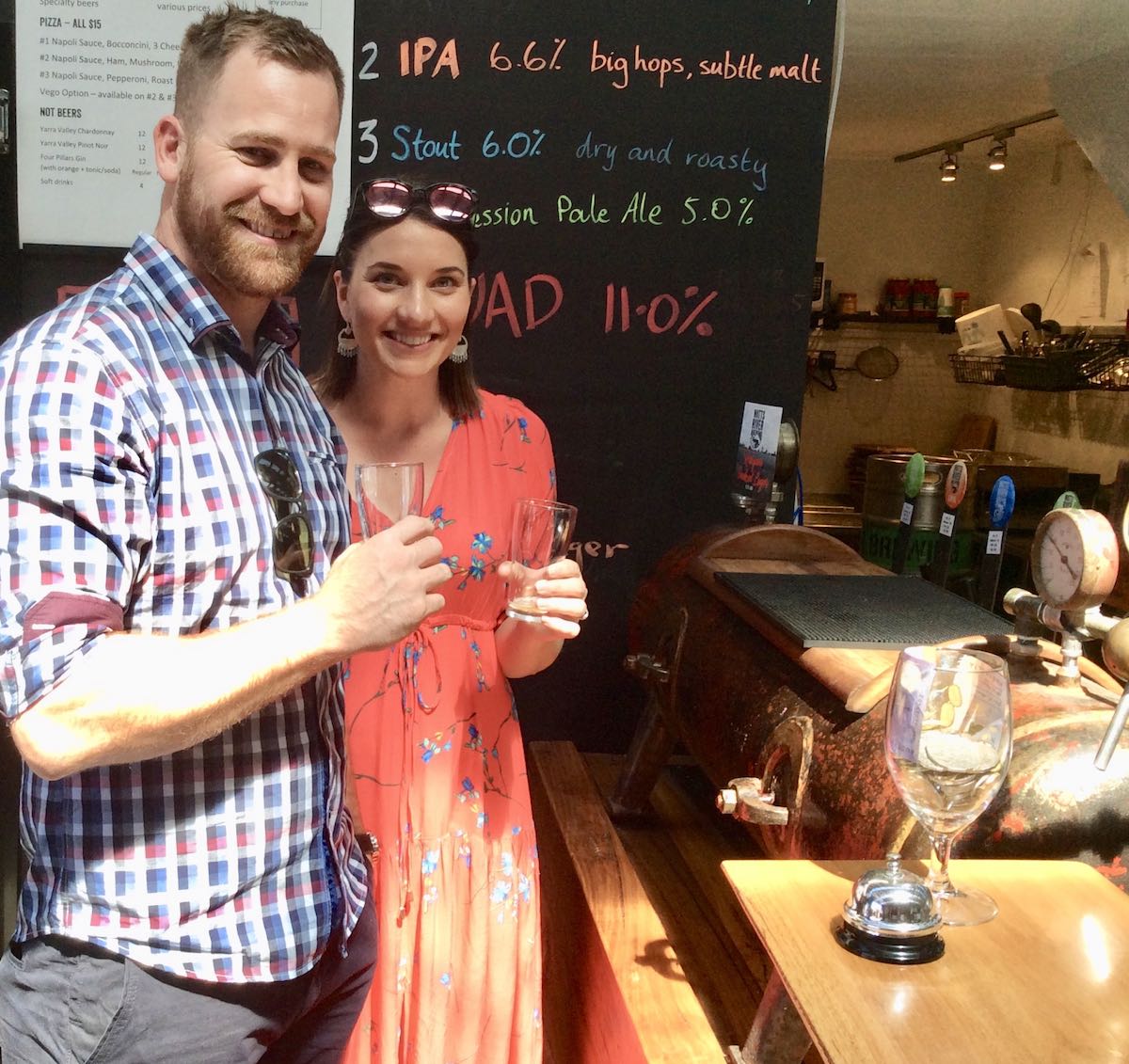 In need of something sweet, their next stop was the Chocolaterie who not only make their own chocolate, they make their own ice-cream as well so given the weather, an ice-cream was most definitely in order.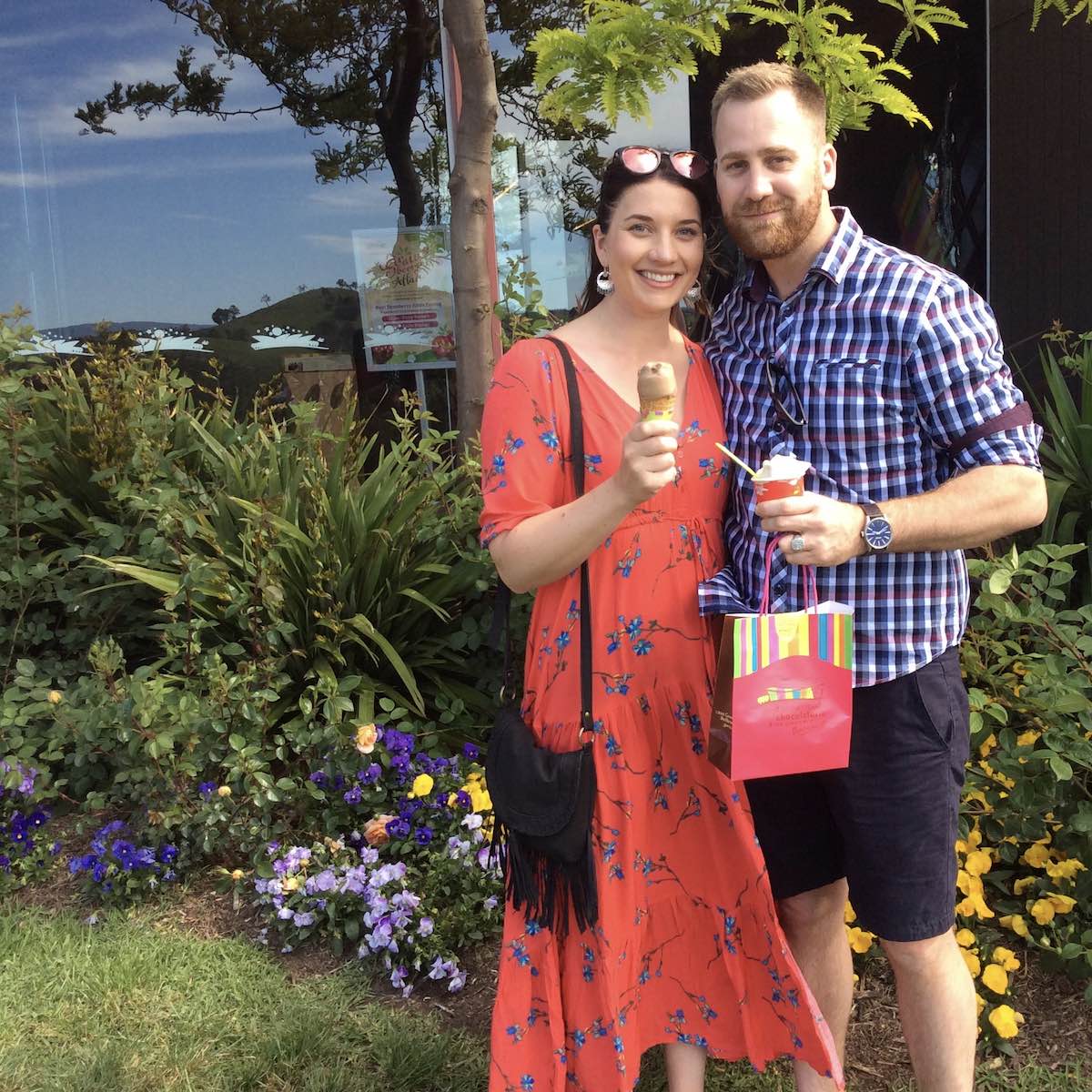 Knowing we had to be back by 5pm to collect Narla from the kennels, Meletos was our final visit for the day – which was perfect because Amanda was keen to try Napoleone's locally made cider and Kevin could sample their beer.  They enjoyed their tasting paddles out in the sun again and promised to return soon to the valley to see and experience more of what we have to offer.  They were looking forward to collecting Narla and sitting out on the lawns at Wiggley on a picnic rug with a bottle of Punt Road and a Yarra Valley sunset.  All in all pretty special.
If reading this has made you jealous – get in touch and chat to us about what you'd be interested in seeing and sampling here in the valley and we'll put together a quote for you.  We do half days tours and full day tours and each tour is designed around what interests you and is private, just for you and your group.