Sisters + partners + a Yarra Valley Wine Tour with Joan = BRILLIANT FUN
Sisters Nicole and Lisa, with their partners Michael and Adam came up from Geelong for the long weekend and booked a wine tour with Tour the Valley even though none of them would call themselves 'wine drinkers'.
And how great that they did their wine tour, because in the Yarra Valley we are now famous for so much more than just wine, as they found out when Joan picked them up from their accommodation and drove them into Healesville to Four Pillars Gin Distillery where they LOVED their gin tasting.  They enjoyed the Bloody Shiraz gin so much they purchased some for later (lucky for them they came the week it was released, because it sells out so quickly!!) and they found it fascinating learning all about the gin making process.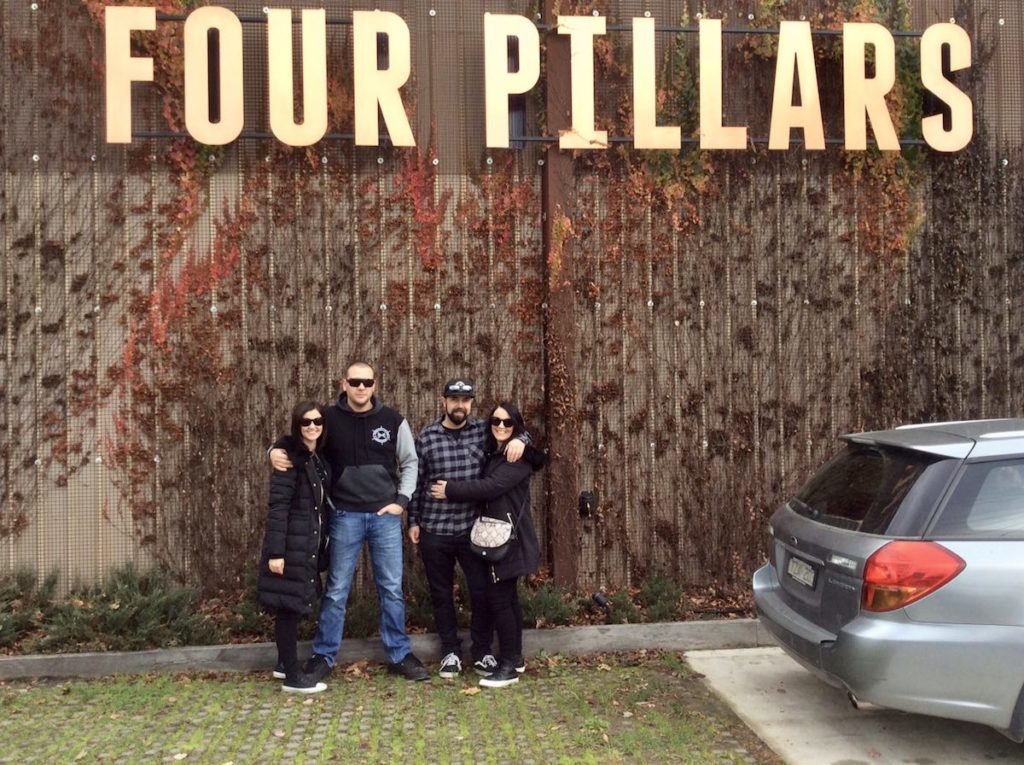 After their gin, it was time to visit another Healesville icon, Innocent Bystander, where their wine tasting was served 'on tap'  by Margaret and they had many laughs over the tasting and found her great value.  Again more purchases were made 'for later'.  It's quite a novelty to have the wine pulled through copper taps as though it was a draft beer and always a crowd pleaser.
Not being huge wine drinkers it was now time to trick it up a bit more so Joan took them for a craft beer tasting at boutique brewery, also in Healesville, Watts River Brewer.  It's a fantastic brewery run by ex White Rabbit brewers who are down to earth genuine lovers of their craft, and the two couples loved it and after their tasting, got to sit and enjoy a pot of Pale Ale, brewed here on the premises.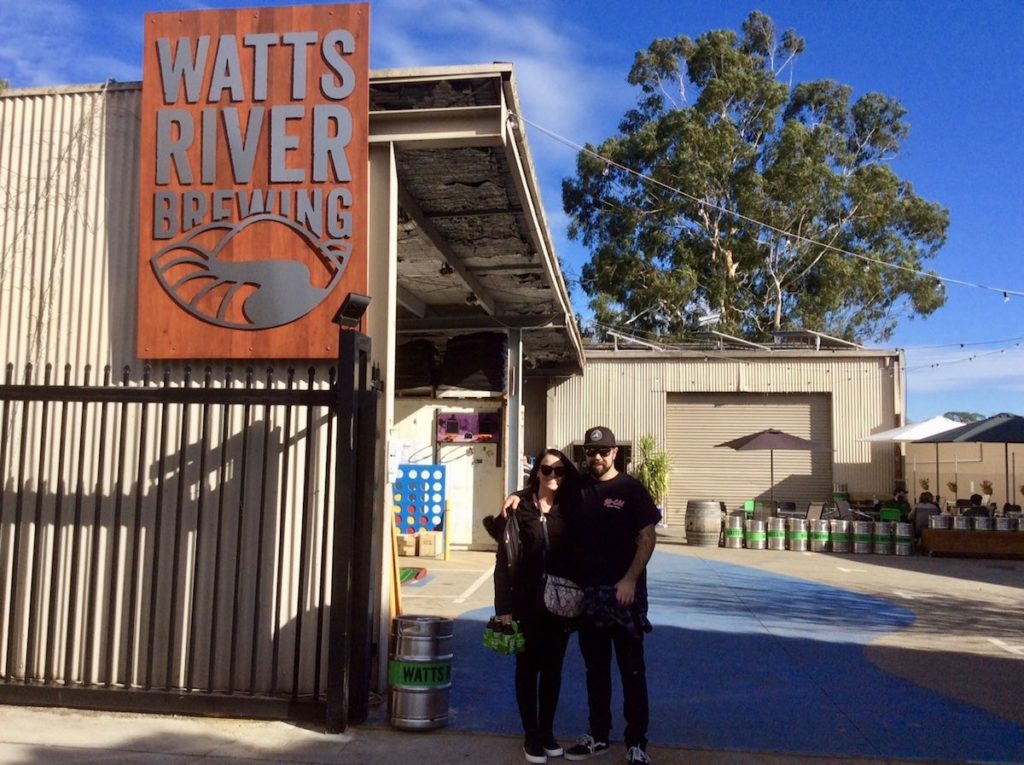 Joan took them next to one of the valley's tiniest cellar doors - Maddens Rise - and as the four of them are dog lovers, they adored the fact there were a couple of dogs there in the dog friendly cellar door enjoying a wine tasting with their owners and they went straight in for a pat and a chat.  They really enjoyed the casual atmosphere in the quaint cellar door - it always goes down a treat with our guests on tour.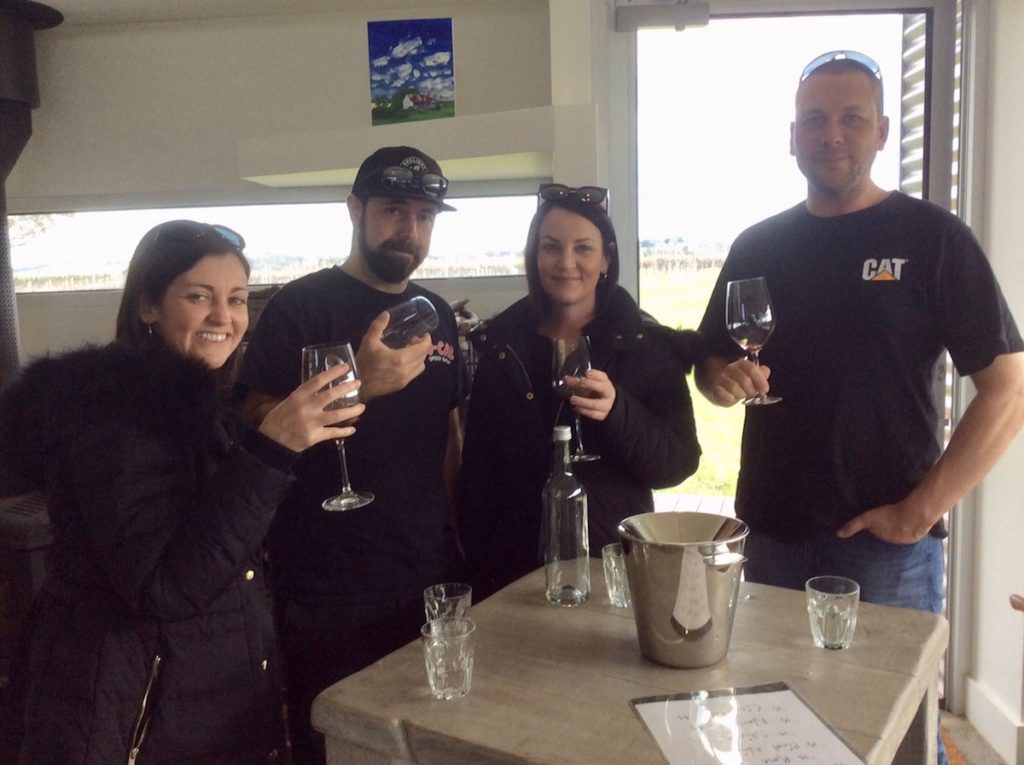 Lunch was at Soumah of the Yarra Valley, high up on the hill and the group thoroughly enjoyed their wine tasting and washed their lunch down with a glass of Soumah's sensational wine.  They understandably absolutely loved the view over the vineyard and rolling hills - it's a special time here in the valley as the last of the leaves are turning golden - in a few weeks the colour will be gone and the vines will be bare.
By now it was "beer/cider o'clock" so Joan knew just where to take them - it was off to Meletos to the newly named Detour Beer Co to sample a paddle of cider and beer and then finish the tour off with a pint of their favourite relaxing outside, enjoying the last of the sunshine.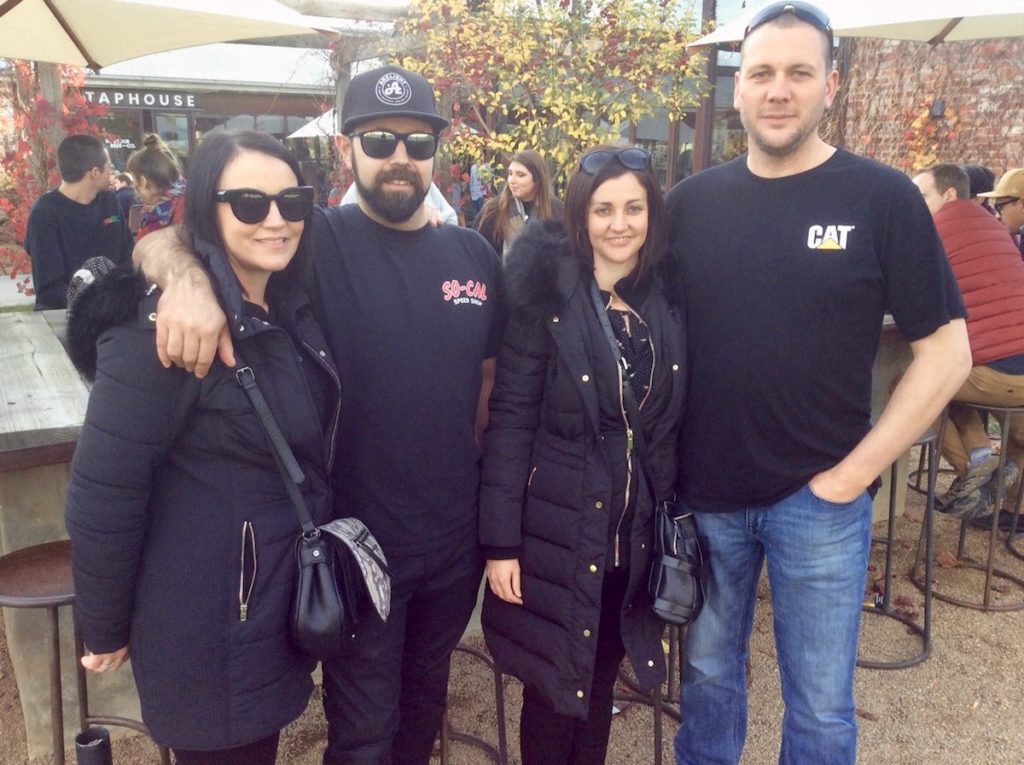 Joan dropped them all back to their accommodation at Yarra Valley Lodge and helped them unpack all their purchases so they could relax and enjoy the rest of their long weekend.
They'd all really loved their day out - with heaps of fun and laughter and after hugs all round, Joan drove off, delighted to have met them and to have helped them enjoy their day - thrilled that they had chosen our tour company to share their day in the Valley.
If you too would like a tour like this, jump on to our website and fill out our quick questionnaire about what you'd love out of your tour so we can help plan a fabulous day for you in the Yarra Valley.