Coming to Melbourne to see The Cursed Child, Adam, Sam and Steph decided to do a wine tour with Tour the Valley while they were here.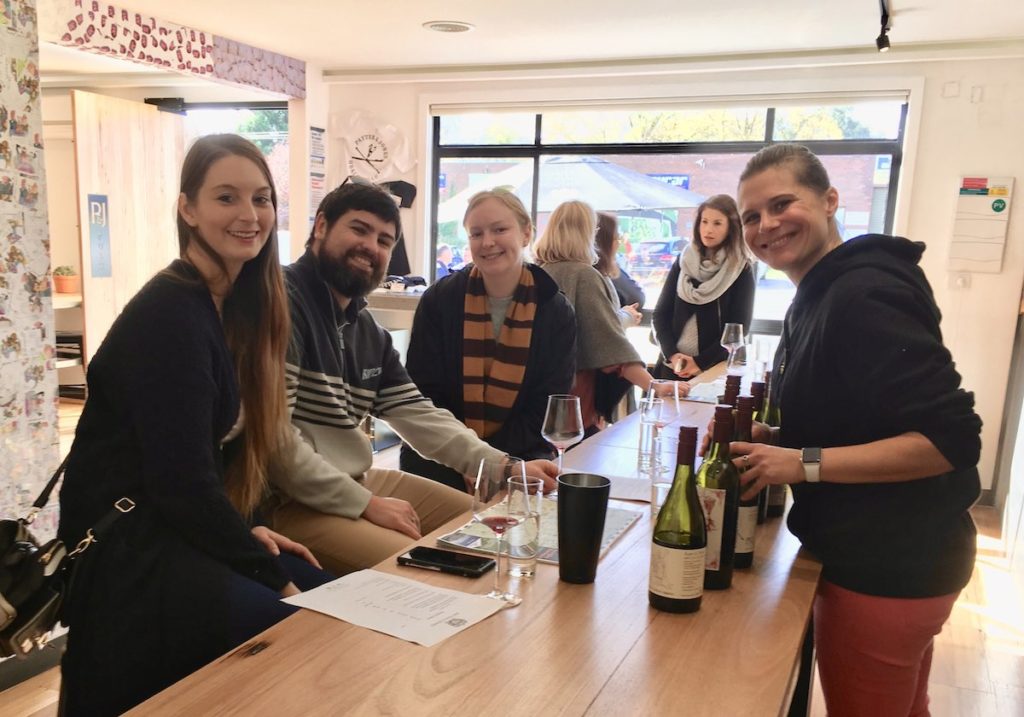 Propping up the cellar door at Payten & Jones
The three colleagues loved how close the Yarra Valley is to Melbourne and how pretty it is at this time of year with the vines all turning and the autumn leaves every shade of yellow, orange and red.
Jeff collected the trio from their accommodation in Melbourne and drove them out to the Yarra Valley, straight for a gin tasting at Four Pillars Gin – you have to go in the morning if you can, before it gets too busy.  They loved the whole experience and were sad they couldn't buy any gin, but they wouldn't fit it in their rucksacks when they flew back to Syd.  Brett who did their tasting with them soon told them where they could buy Four Pillars in Sydney so crisis averted!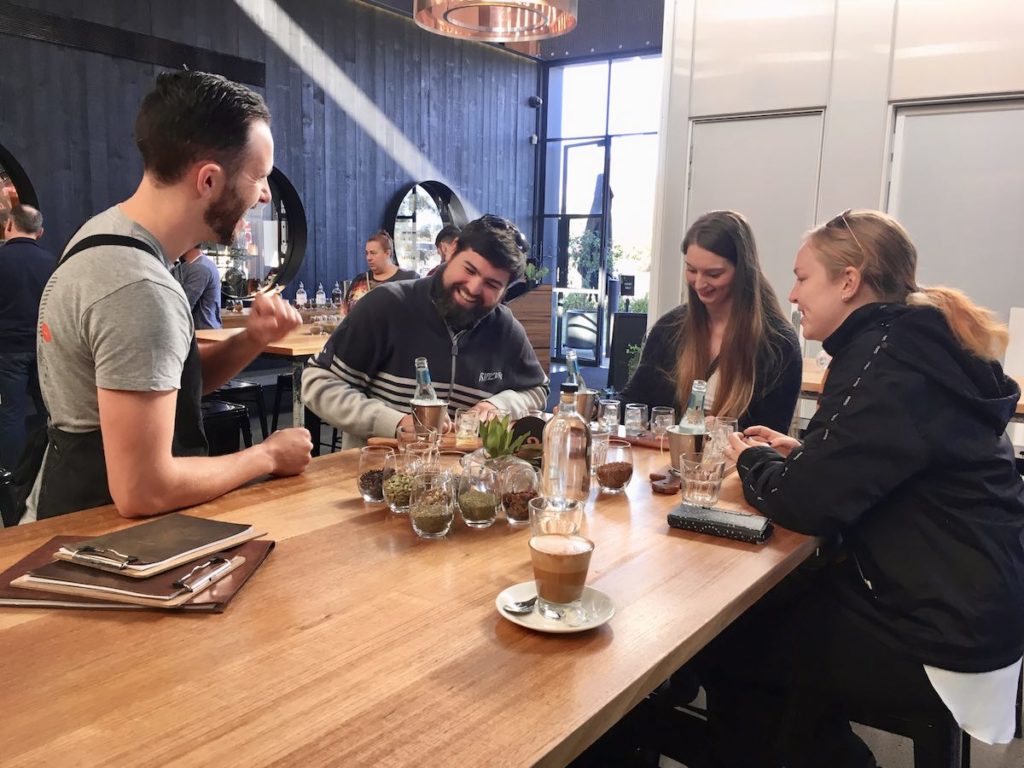 The beauty of Four Pillars is its proximity to Payten & Jones, one of the best and tiny cellar doors in the Valley – so no need to hop back in the tour bus, the group just crossed the road and voila, there's Emanuelle ready to do their tasting with them.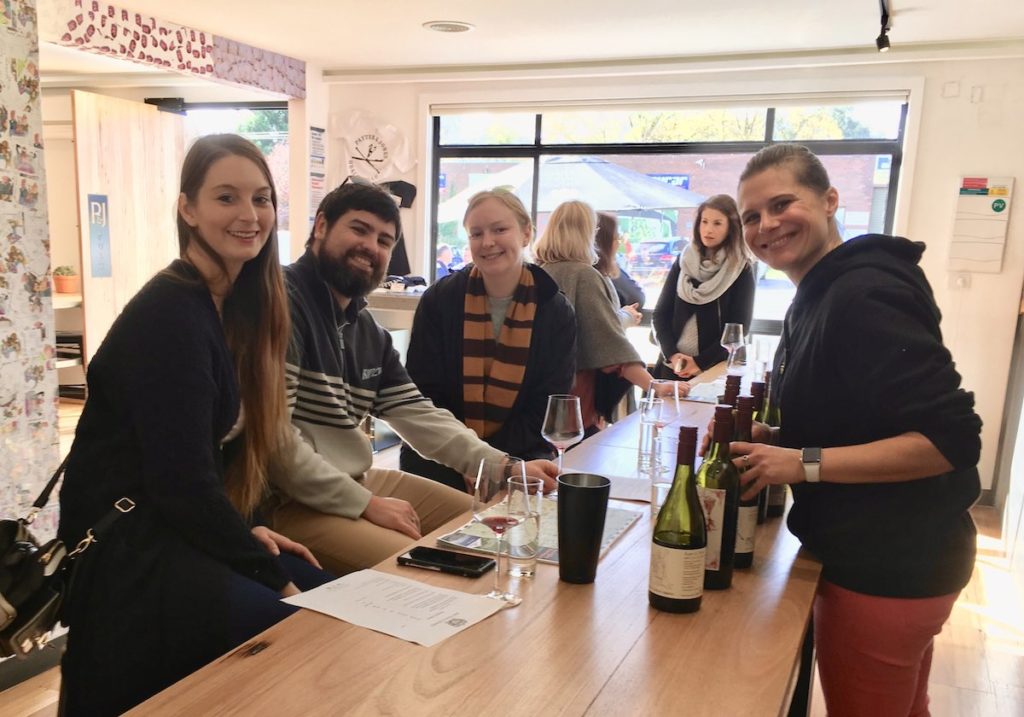 Before lunch, Jeff took them up to Maroondah Dam for a stroll across the dam wall where you can see for miles across the reservoir.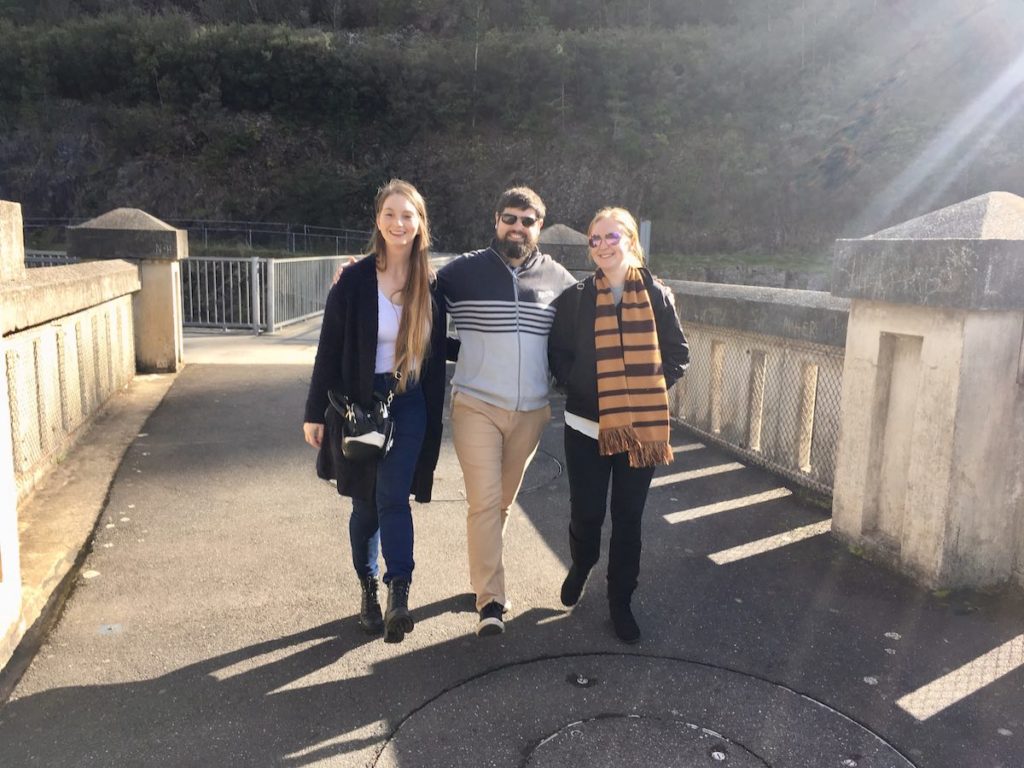 Driving back into Healesville, their next stop was Innocent Bystander, a winery within the town, where their wine tasting was done 'on tap', like you'd pull a pint of beer.  The group loved the novelty value and after their tasting, settled in for a fantastic lunch of shared pizzas, paella and were amazed at how promptly they were served – it's a slick operation at IB 🙂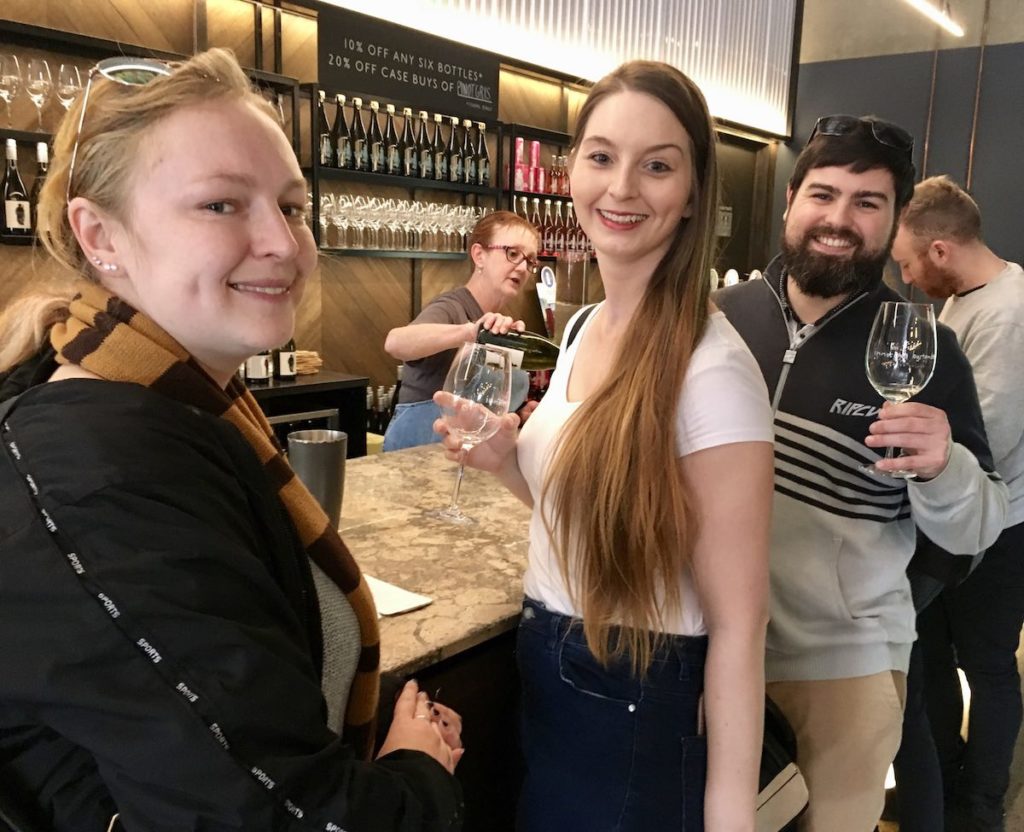 To change things up a bit, after lunch Jeff drove them to Meletos for them to have a cider & beer tasting paddle of Napoleone's finest craft brews.  They shared a paddle and again loved the whole set up with the lovely old buildings, and the views that stretch for miles across the vines.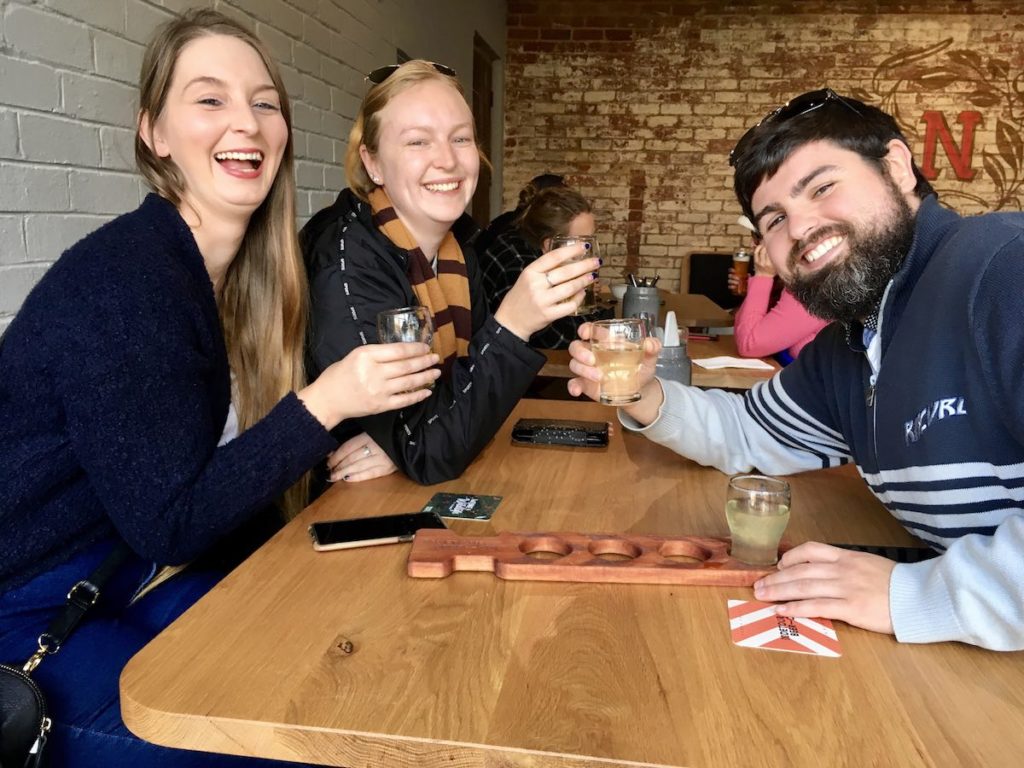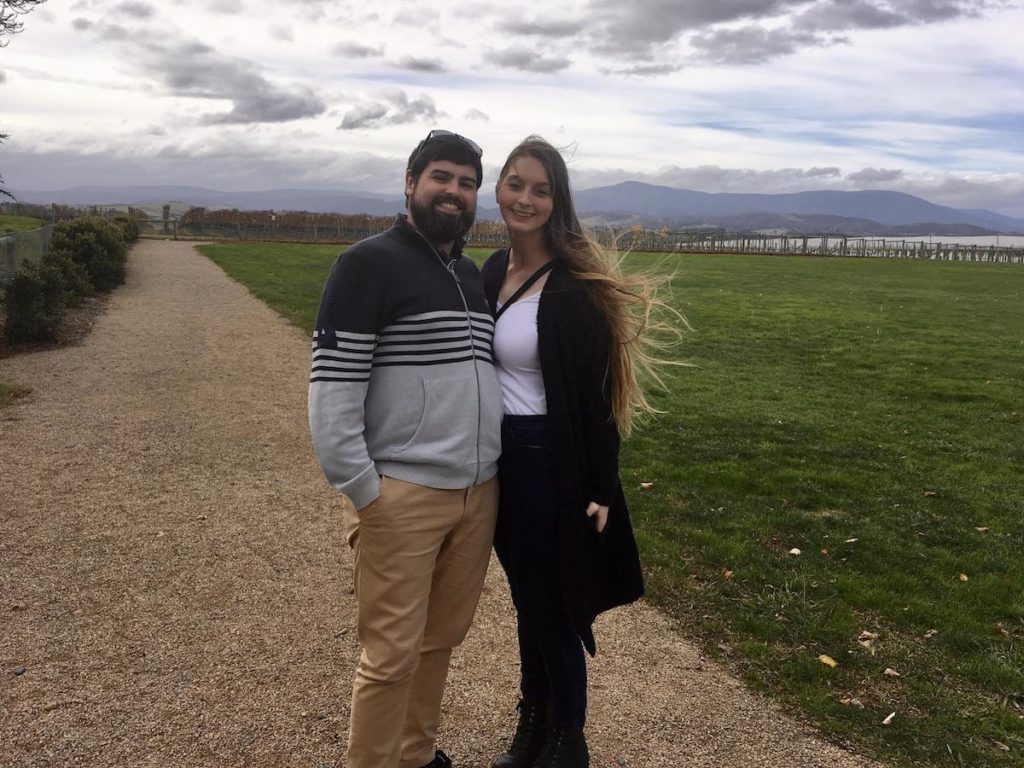 Adam's face lit up at the suggestion of a quick visit to the Chocolaterie and when they arrived, he treated himself to a refreshing ice cream on this hot, sultry autumn day (not)!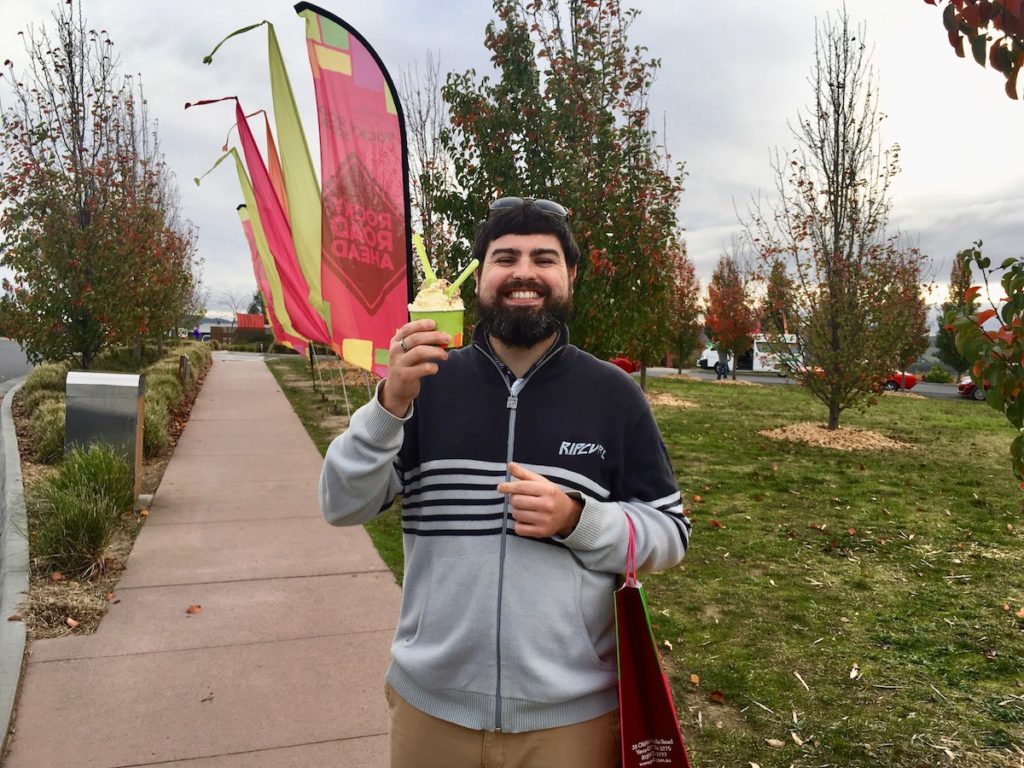 Jeff managed to fit in one more wine tasting for the group before heading back to Melbourne CBD, at Greenstone Vineyards over near Steels Creek.  They loved the position of the cellar door with spectacular views but did their tasting inside as it was too cold to be out on the deck for long!
They were off to Melbourne Zoo the next day before flying back to Sydney.  Knowing they are all animal lovers, perhaps we can take them to Healesville Sanctuary next time they visit – to see the indigenous animals.
If you'd like a tour like this – it's easy to get the ball rolling – just fill out our questionnaire and we'll get back to you with some itinerary suggestions.