Three couples celebrate the long weekend with wine and fun in the Yarra Valley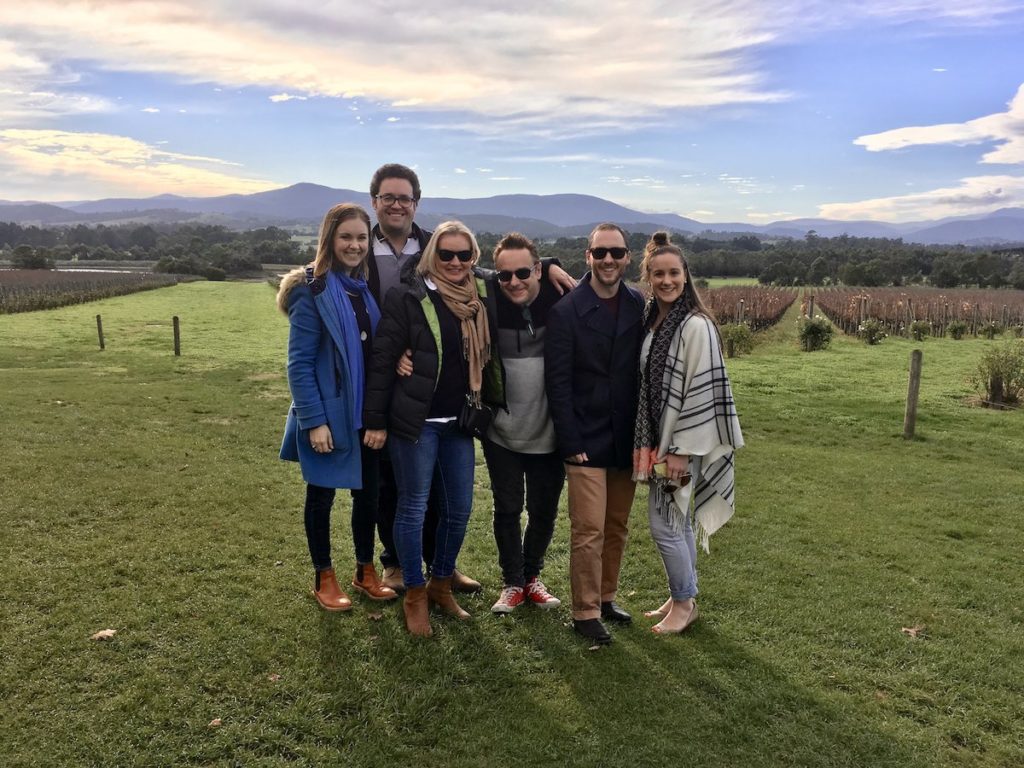 Many years ago in a small country town Debbie and Brett ran a steakhouse and Nora and Tara were their two favourite staff members. Fast fwd to now and add in their partners Jimmy and Callum and here are the three couples, still such good friends they are now on a wine tour on a weekend away together.

Jeff collected them from their accommodation in Healesville and their first port of call was Domaine Chandon, for a splash tasting.  Our thirsty tour were first in the door – which is advisable on a Long Weekend as it'll be mayhem later on, and they loved their tasting so much, they took advantage of the discount and bought up big time.

Classic moment – as the group came to pay the cashier looks at Nora and Tamara and asks 'Is your Mum paying for this?' nodding at Debbie.  From then on she was referred to as Mum all day! 🙂

They had fun wandering through the Domaine Chandon Experience (if you go, make sure you stand behind the bubbles photo machine) and the riddling room, where the magic happens.

Next stop was Dominique Portet – where we timed our arrival beautifully and had the cellar door to ourselves when we got there.  More purchases were made, understandably – it's not every day you go to the cellar door of a 7th generation French winemaker and sip the fruit of his hard labour!

Rochford Winery was the group's choice for lunch – on arrival they each chose their meal, then went up to the cellar door to do their wine tasting and choose their wine for lunch, and when they returned to their table their antipasto platter had arrived.  They enjoyed their meals and the entire experience, so much so they ordered a sticky each to prolong lunch.

Jeff then drove them 2 minutes up the road to Maddens Rise, one of the Yarra Valley's best boutique cellar doors.  The group agreed – they loved their tasting, loved Em, and pretty much loved the whole MR experience.  Em who runs the cellar door was on great form and the stories were flowing, including the telling of when she was at primary school just up the road and earnt the name Emma Beetroot Spaghetti (Beatrice Sanguinetti was a step too far for local valley kids to pronounce back in the day!).  They bought up large. $100 for 6 Pinot – took up that offer straight away!  Brett declared after everything he tasted at MR 'Yum, this is the best wine I've tasted in the entire Yarra Valley.'

Callum took the opportunity to have a little lie down on the lawn, and why not, it was such a nice day and he'd had enough wine tasting by then.

The big trees always fall first.

On the way to Payten & Jones the singing (if you can call it that) started – and everyone sang their 'go to' karaoke song.  Some were less identifiable than others and Jimmy's was Creep by Radiohead. Other memorable renditions were Total Eclipse of the Heart and Time Warp with a bit of Spice Girls for good measure.  At Payten & Jones, the cellar door of a fabulous up and coming duo of winemakers in Healesville, the group sat in the courtyard in the winter sun and Manuel looked after us, ably assisted by tiny tot Mia, and they tasted P&J's entire range. Brett remarked 'Yum, this is the best wine I've tasted in the entire Yarra Valley.' Nice to know the day/wine just kept on getting better and better!  Jeff helped them stagger out with yet more wine under their arms.

At TarraWarra Estate – the final tasting for the day, sadly the deck was closed for renos as TWE are getting ready to host the Archies (what us locals refer to the Archibald Prize).  So we bought a bottle of Pinot and sat on the lawn overlooking the vines and the dam and discussed the important topics in life such as 'If Brett did a roly-poly down the hill, how many children could he take out?' and people tried to shock one another with imaginative uses for Ventalin!

On the drive back to their accomodation, Jeff anticipated they may be thirsty for a cleansing ale at the end of their tour, so did a quick pitt stop through the bottle shop on their way home.

Great group, great fun, great weather, great day out, great way to spend a long weekend with friends, great wines were drunk and purchased and we hope to have the pleasure of their company again on future tours.

If you'd like a similar fun sounding tour, get in touch and we'll come back to you with some ideas.