The great thing about doing a wine tour when you're already staying in Healesville, is that you don't spend half the day in the bus getting to and from the Yarra Valley.  Scott and his friends were wisely staying in Furmston Lane right in the heart of Healesville, so we were able to fit in a great and varied itinerary of tastings all in a half day tour between 10.30am – 3.30pm, and Jeff their tour guide picked them up and dropped back at their accommodation.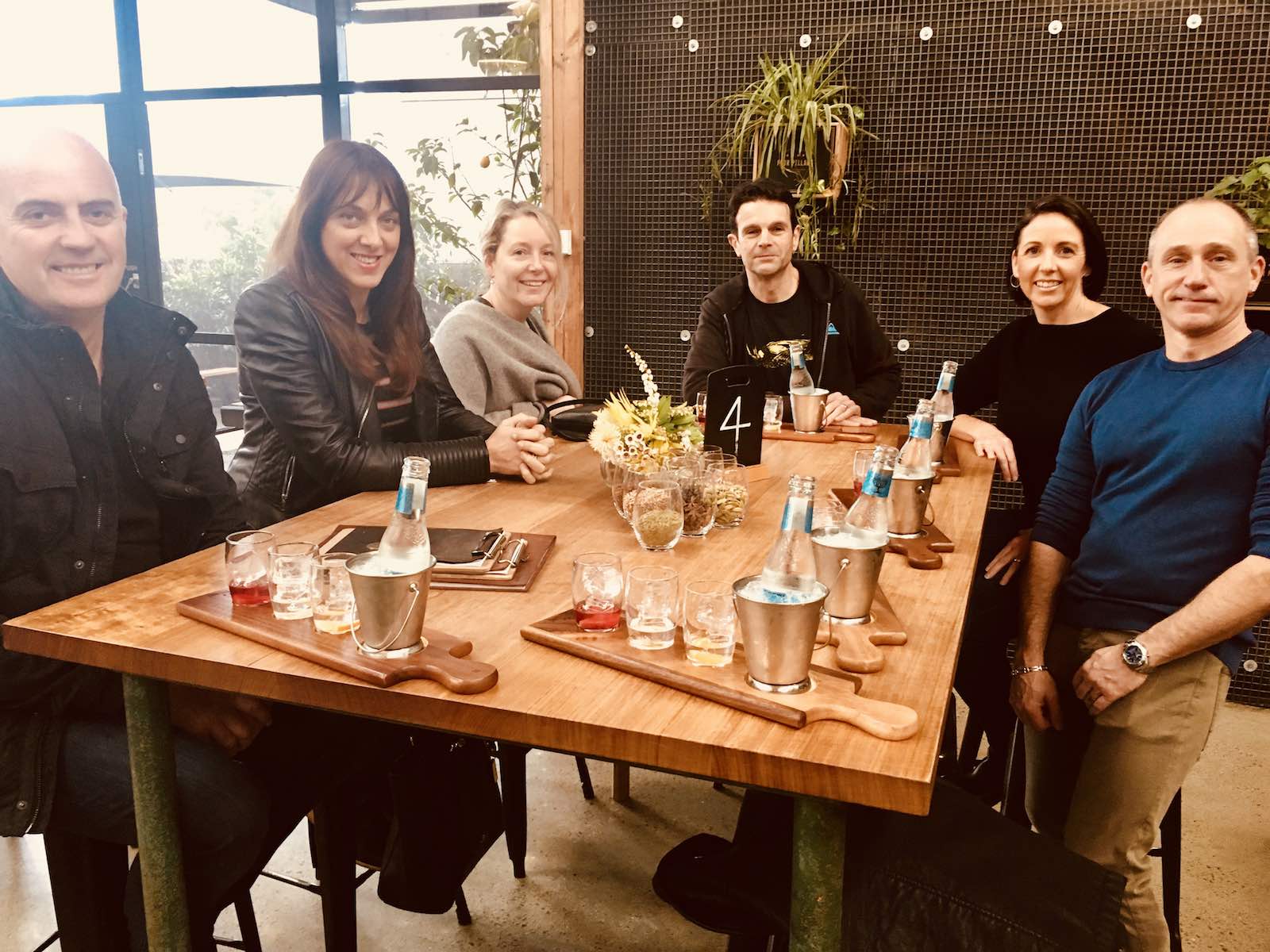 'Breakfast of Champions – a Four Pillars Gin Paddle!'
That was according to Rick when we arrived at Four Pillars Gin and presented with a gin tasting paddle of three gins, and all at 10.30am!  We started our tour with a visit to Four Pillars as it gets busier and busier as the day goes on, so the group had a great experience savouring the flavours while Calvin explained the complexities of the gin making process with the aromatics they use.
Jeff spotted Troy Jones across the room and pointed him out to the group and with tongue firmly in cheek said 'As they say, never judge a book by its cover, Troy's one of the Yarra Valley's best winemakers.'  So there and then, having chatted to Troy, they laid plans to add a visit in to Payten & Jones' cellar door at the end of the tour, so they could sample his wines for themselves and see what all the fuss is about.
After the gin palace, Jeff drove the group up to Helen & Joey's winery where Andrew gave them a great wine tasting in the cellar door as sadly it was a bit brisk out on the deck.  The wine went down a treat and the friends marvelled at the view, which even on a patchy weather day, is still quite remarkable.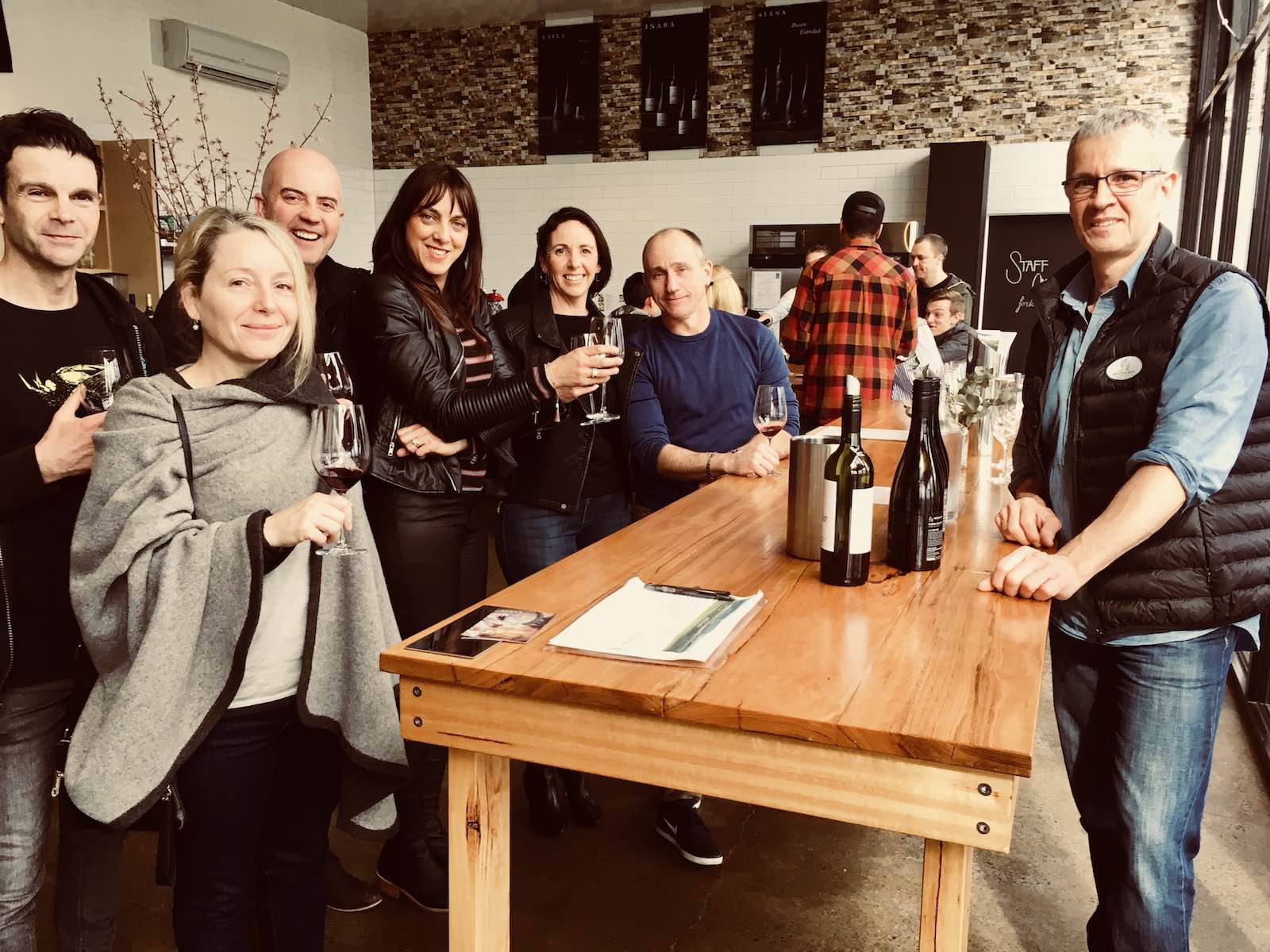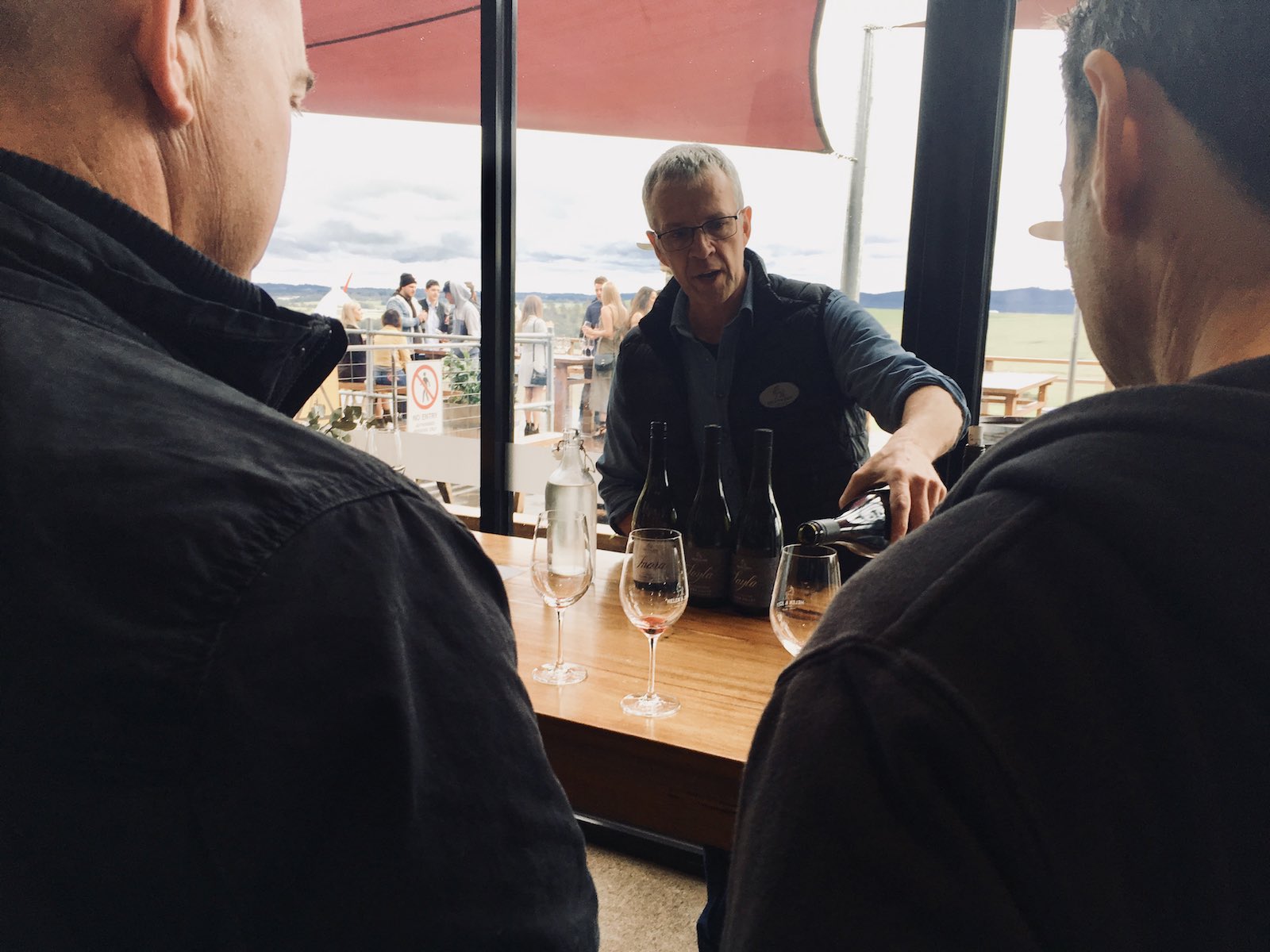 They then piled back into the car and set off across the valley through Yarra Glen to Yarrawood winery for lunch and on the way everyone commented on how lush the valley was looking and how gorgeous the early spring lambs were, gambolling around in the paddocks.  At Yarrawood everyone enjoyed another wine tasting before lunch where they got to choose which wine they'd like as their complimentary glass with their meal.  The sharing platters were sensational and the bread was delicious – everyone was very happy; great food, wine, view, company – all in all a pretty good recipe for a great day.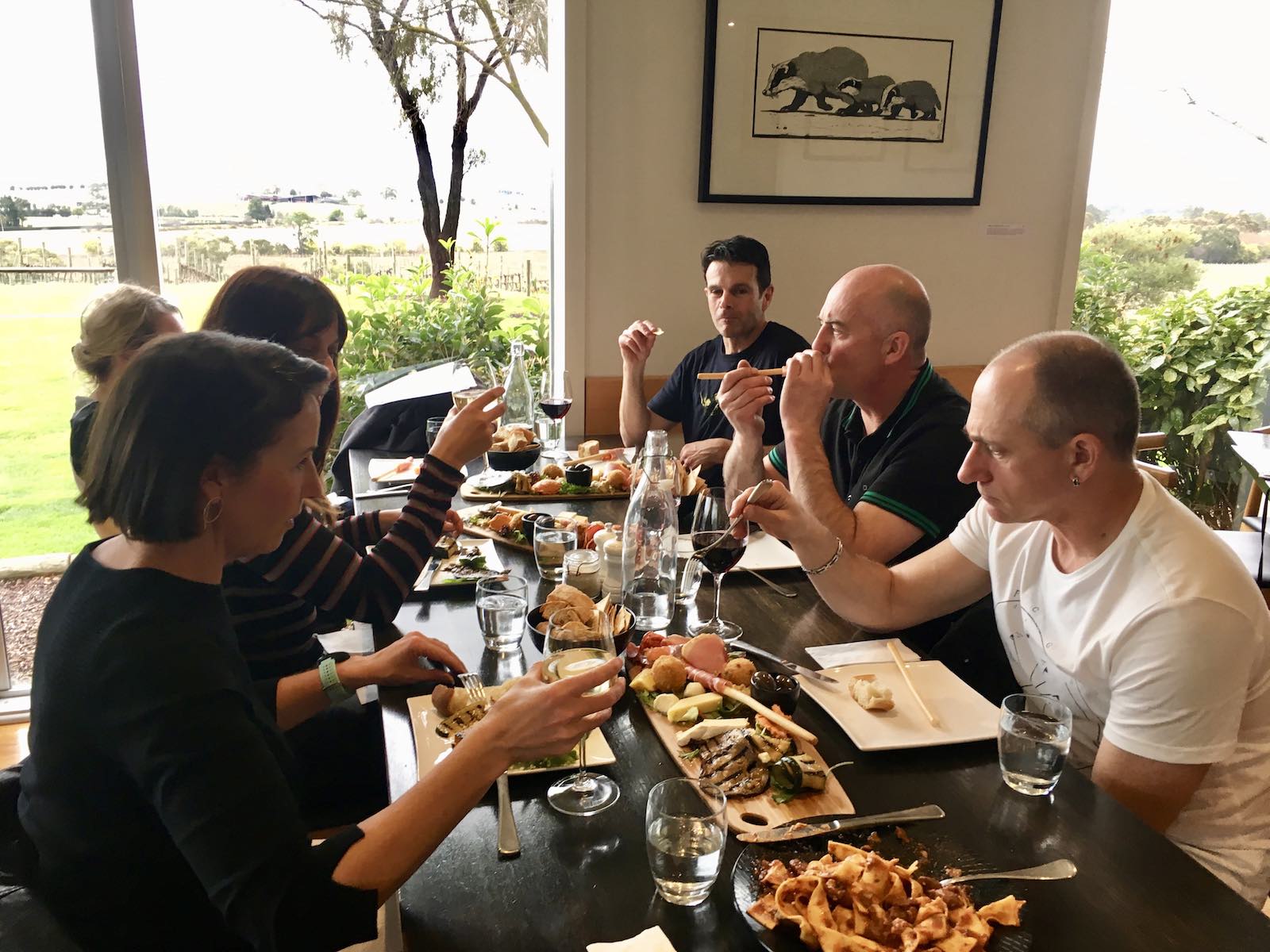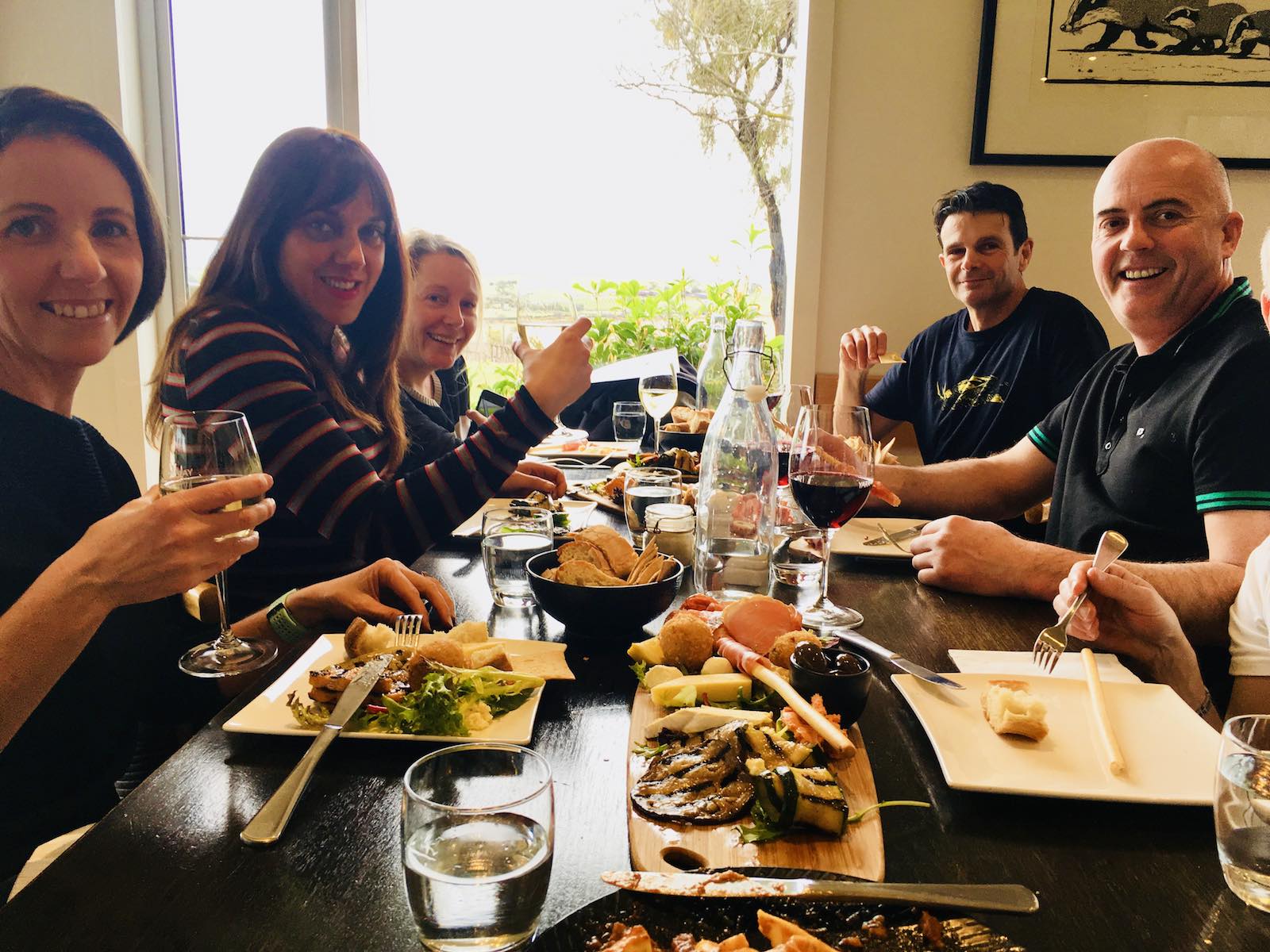 After lunch and happily sated, it was time for another wine tasting, this time at St Hubert's Winery where Shayne looked after the group beautifully at ther cellar door – wine was bought, even Champagne flutes were purchased.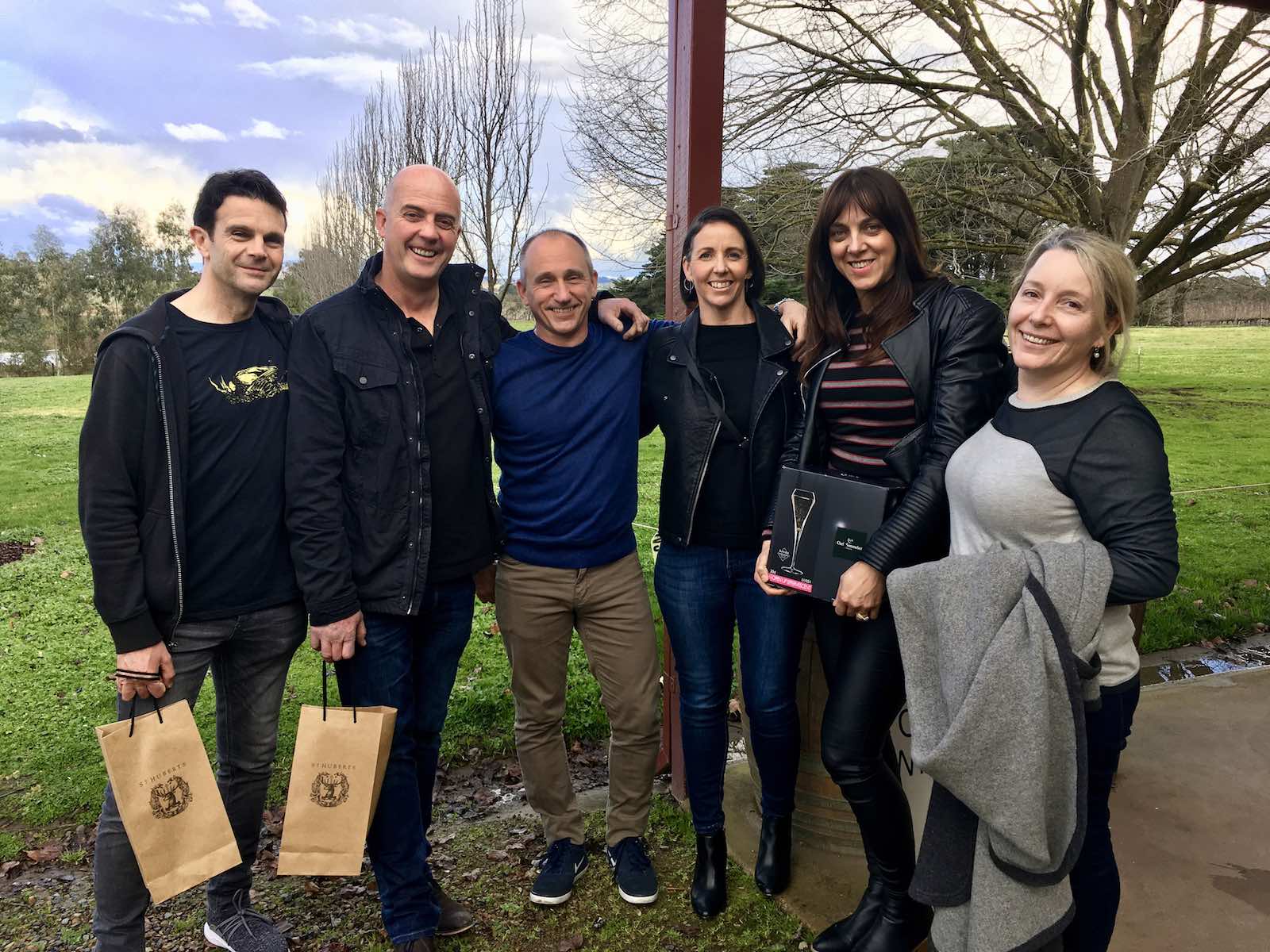 And as promised, Jeff fitted in a tasting at young guns of the wine world Payten & Jones as they drove back into Healesville.  Frenchie took them through their wines on tasting and everyone raved about their Pinot Noir and Syrah and more purchases were made, by the tour guide as well as the group!!  The labels alone make them worth buying!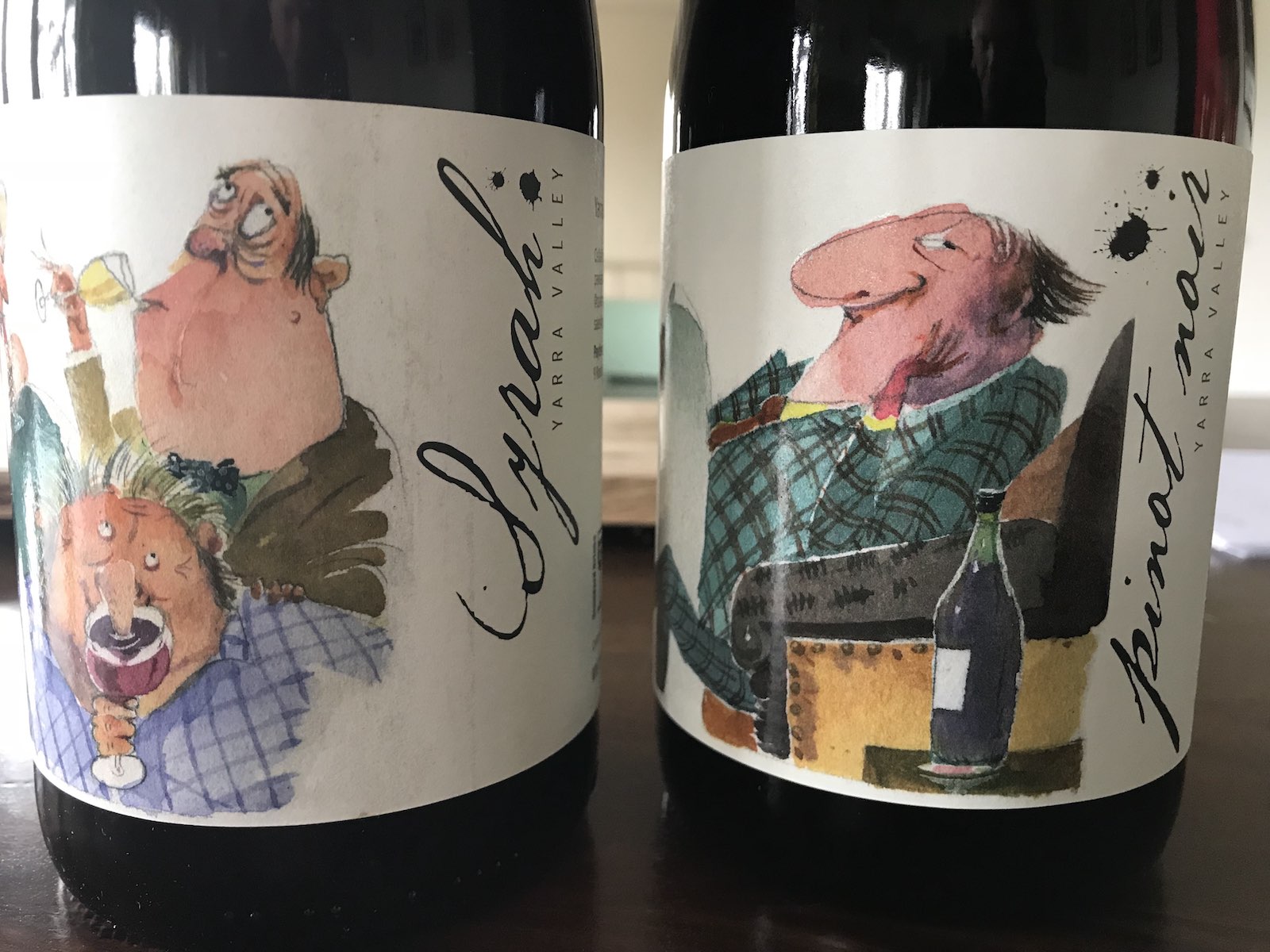 As Jeff deposited a very happy group back to their accommodation on Furmston Lane, the boys were discussing going over to the Grand Hotel to watch the game while the girls had plans to hit the shops – happy all round.
If we can help you put together a great day's (or half day's) touring – get in touch and let's start planning where you'd like to go in the Yarra Valley & Dandenong Ranges.