They left their two dogs at home in South Yarra with the dog sitter to enjoy some R&R in the Yarra Valley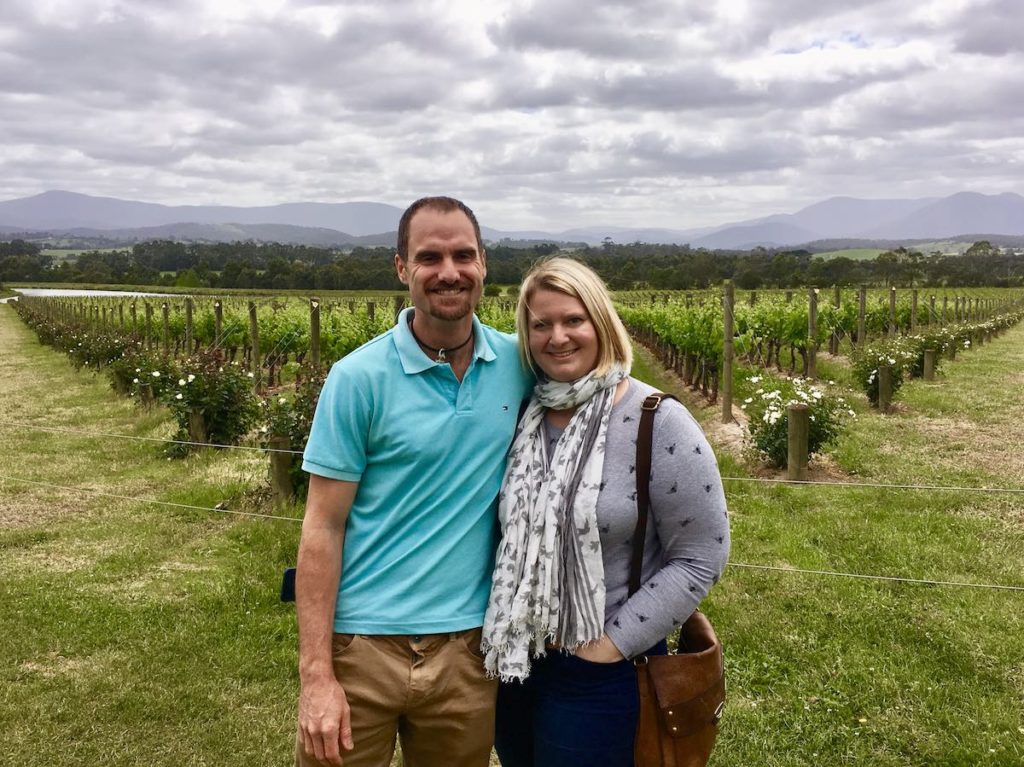 Lucy & Barnaby were the first through the doors as Chandon opened
Joan had put together a great day's touring itinerary for Lucy & Barnaby based on their likes and loves – one of which was sparkling wine.  So Jeff collected the couple from Yarra Valley Lodge where they were staying for the weekend and drove them out to Chandon for their first wine tasting of the day.
As they saw another bus pull up Jeff got the pair to the front door so they were the first to be served as the doors opened.  They loved their tasting and were intrigued by Chandon's signature Sparkling Pinot Shiraz.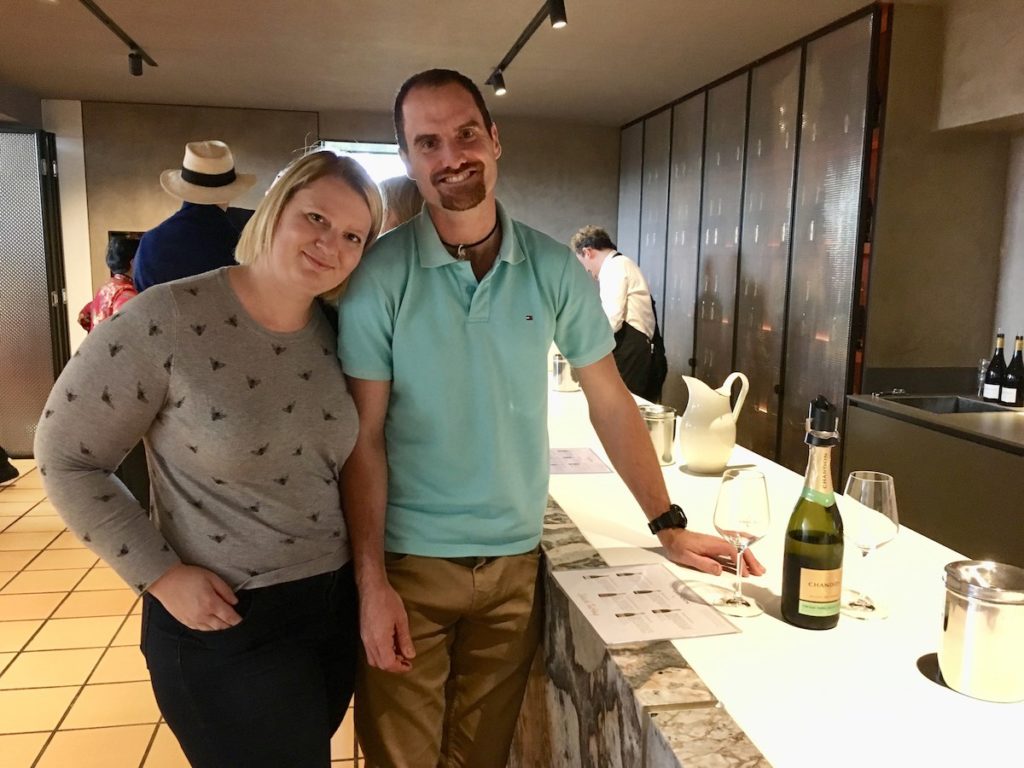 Seeing how they loved the sparkling at Chandon Jeff knew they would LOVE Maddens Rise's pink fizz so made that their next cellar door to visit – and the contrast between Chandon's large impressive cellar door and Maddens Rise's tiny boutique tasting room was not lost on the couple.  Ben gave them a fabulous tasting and they loved being one of the first to try their new releasee rosé.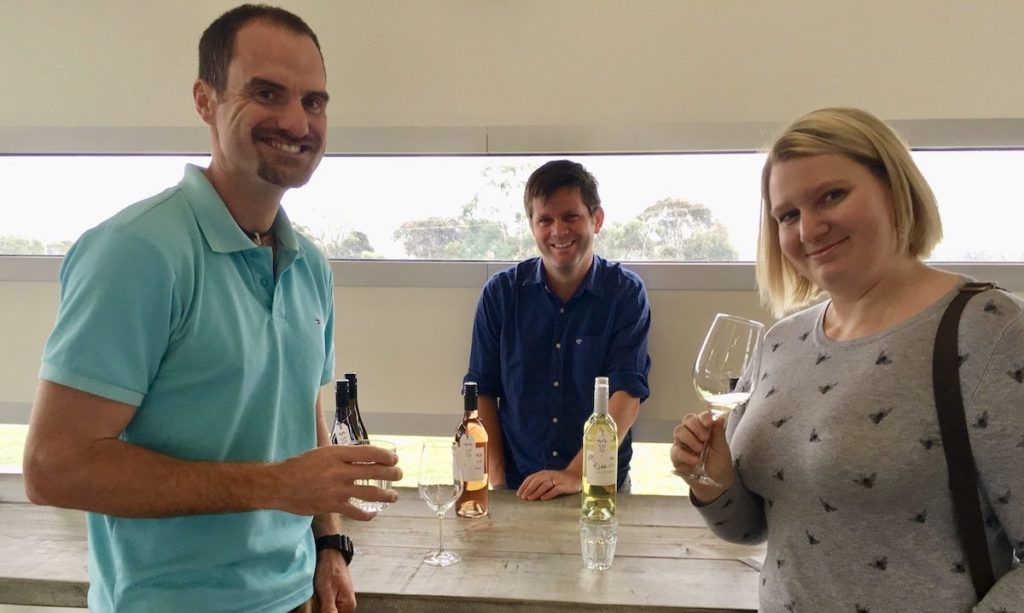 With purchases of Maddens Rise's Pink Fizz and Sparkling the pair clambered aboard extremely happy and Jeff drove them the 2 minutes down the road to their next tasting – at Badgers Brook cellar door where Biddy looked after them beautifully with her extensive wine knowledge while Jeff had a play on the new swing seat in the grounds!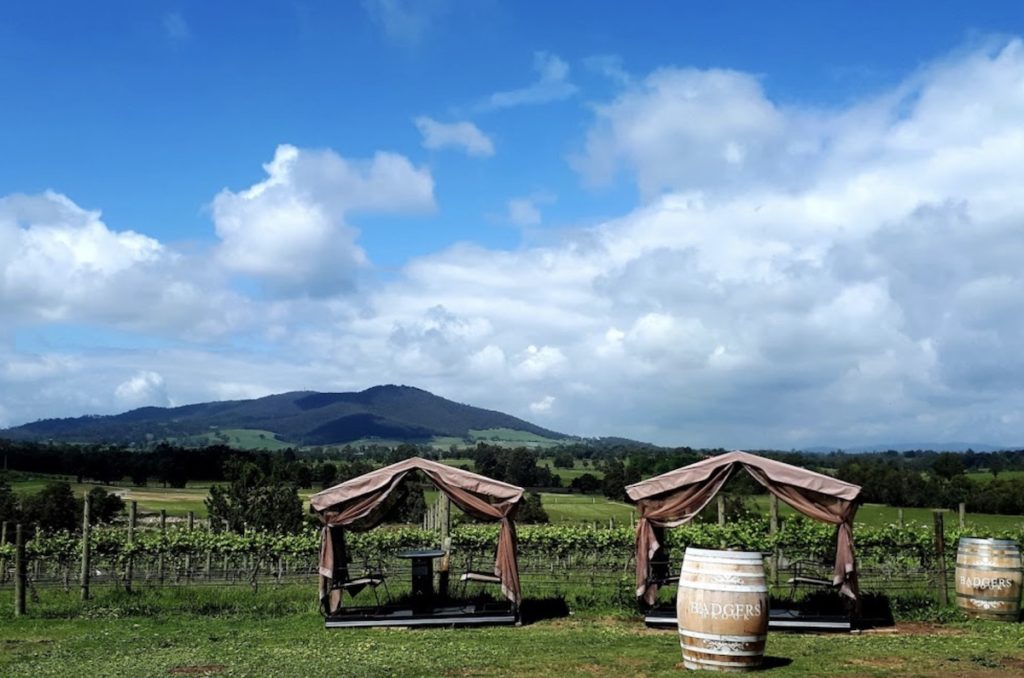 By now Barnaby and Lucy had worked up quite an appetite and fortunately lunch was booked adjacent to Badgers Brook so they walked through to Tramonto and enjoyed a lovely sharing platter with a glass of wine, chatting away merrily to Jeff about places they'd travelled to all around the world, their two dogs back home and how they yearned for a tree change one day. (Think we might have sold them on the Yarra Valley – especially when Jeff made a quick unscheduled pit stop at home to introduce them to his dogs and show them the kind of view they could have if they were to make the move!)
In conversation they mentioned they would like to make the most of their lovely accommodation and have some nice deli bits and bobs with some of their fabulous wine purchases later that evening so Jeff took them straight to Kitchen & Butcher in Healesville's Main Street where they were spoilt for choice with such a mouth watering selection of cheeses and deli goods.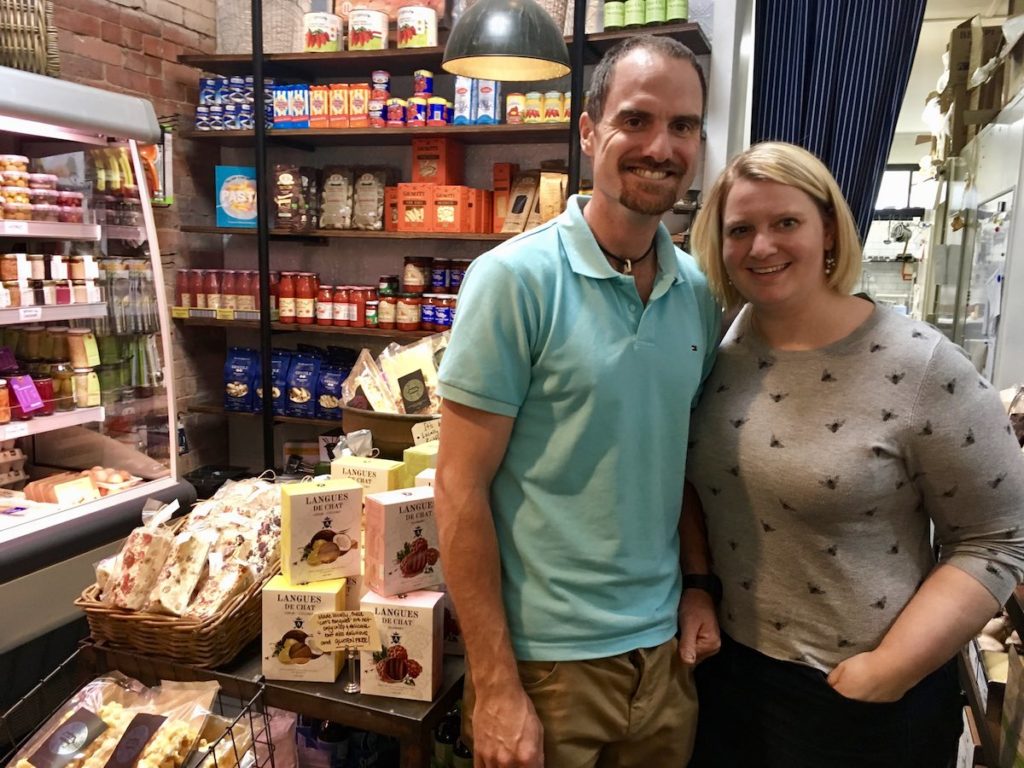 The lovely Mandy Kennedy served them and so with supper provisions purchased they hopped back in the car eagerly awaiting their next wine tasting.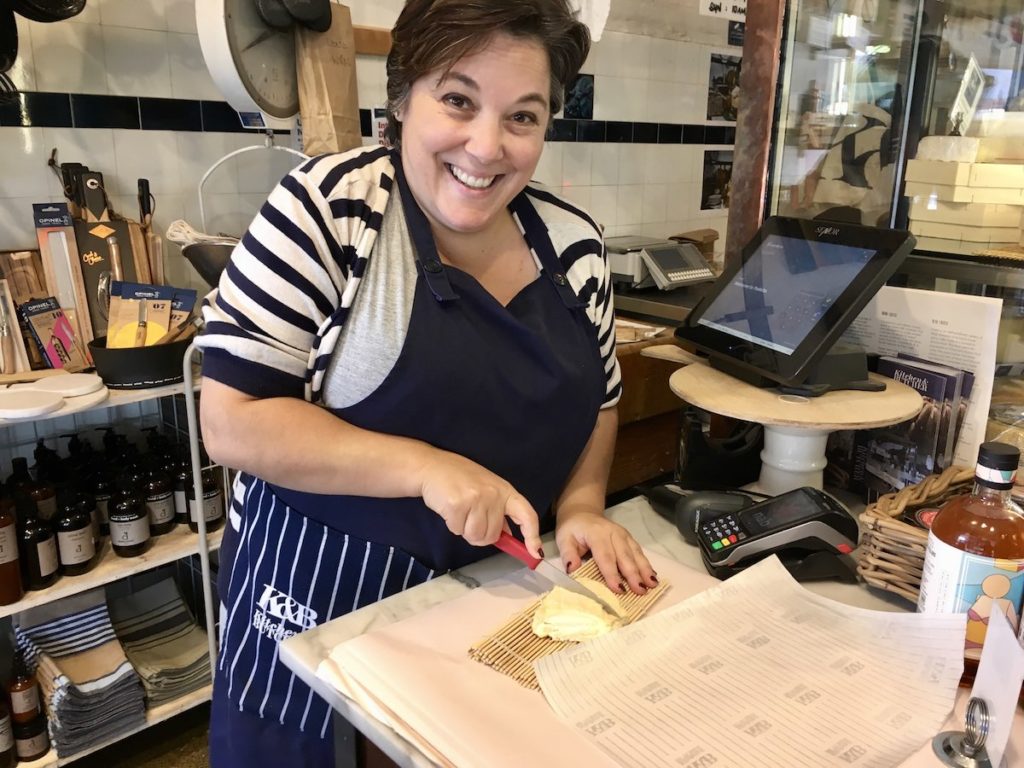 So Jeff drove them out to St Huberts winery, one of the first wineries established in the Yarra Valley over a century ago and they enjoyed another informative tasting.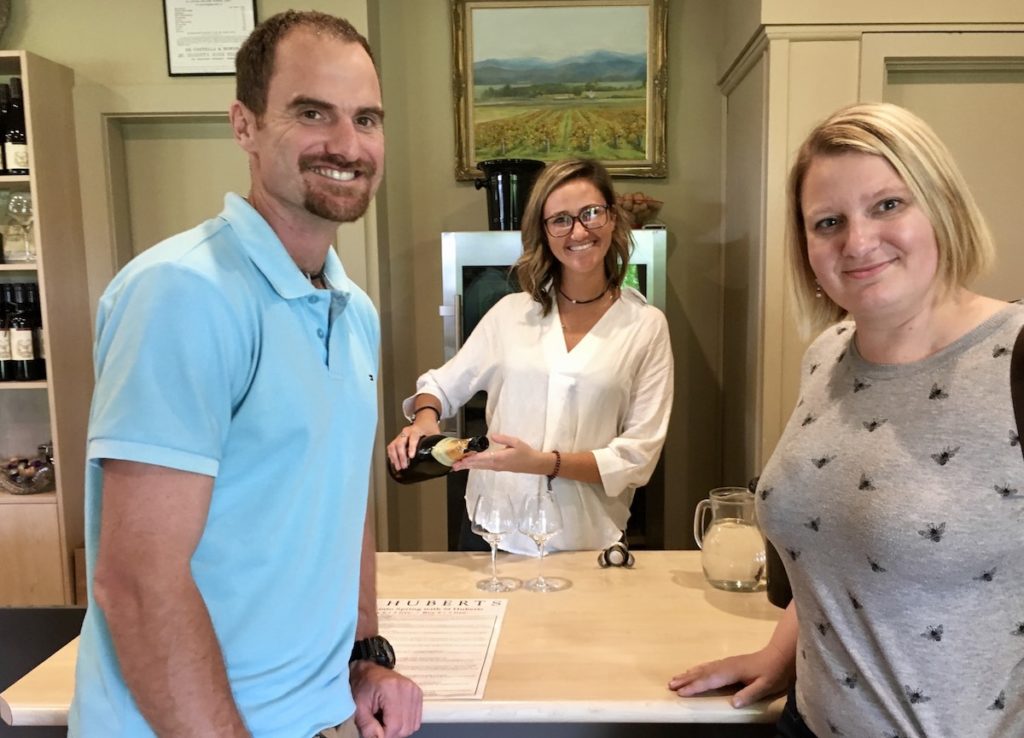 Given that Helen & Joeys, one of the Yarra Valley's newest cellar doors, was just over the road, Jeff wizzed them up the winding drive only to see that 100 other tasters had beaten them to it – but Andrew still gave them a fantastic tasting and they loved the sticky so much they wisely bought a bottle 'for later'!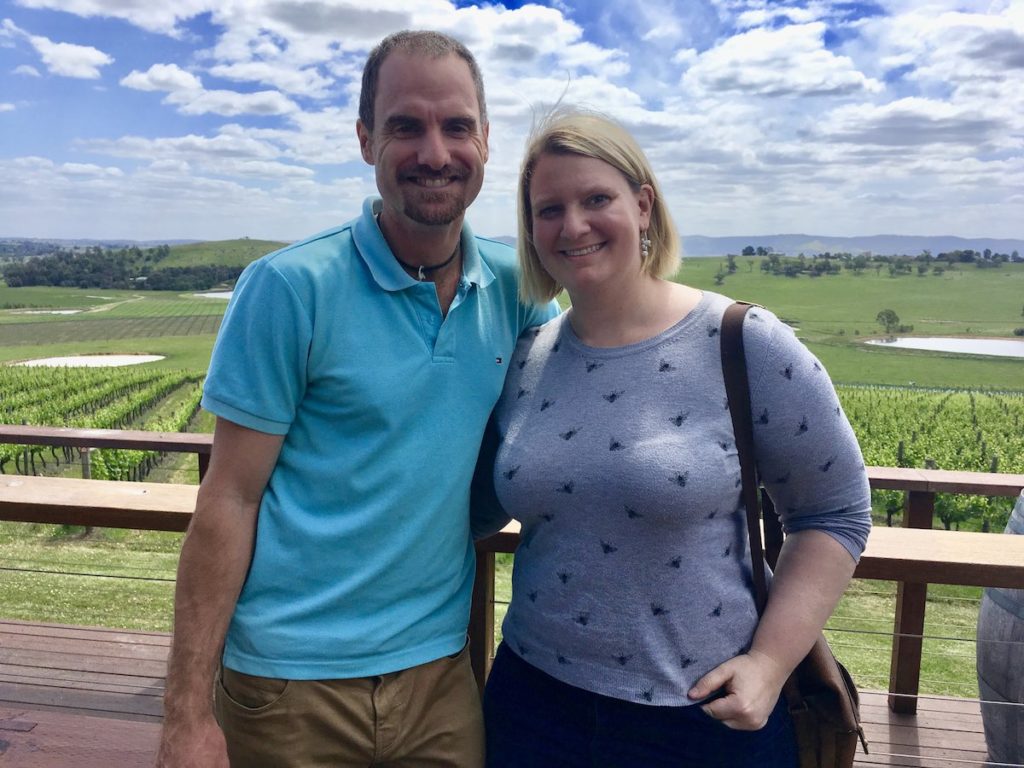 Knowing how busy all the cellar doors were by this time in the afternoon Jeff suggested he take them to his favourite place in the valley, to TarraWarra Estate where he knew they would love a final tasting in their architect-designed cellar door, then take some wine out onto the pepper tree deck (the deck has literally been built around the gorgeous trees) to rest their gaze out over Long Gully, the dam and the vines.  It really was the BEST way to end a fabulous day and Lucy and Barnaby thoroughly 'got it' and kicked back, chatting away setting the world to rights with some nibbles and wine.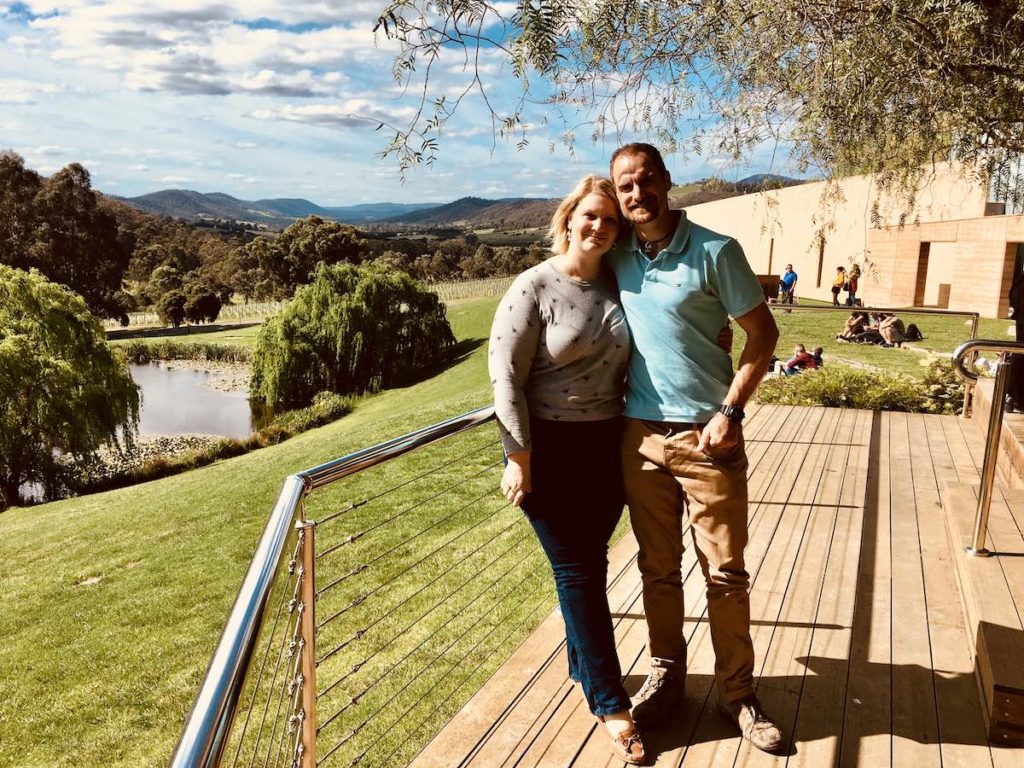 But sadly all sensational days have to come to an end and Jeff drove the happy pair back to their fabulous accommodation at Yarra Valley Lodge and as they said fond farewells Lucy was already plotting their next tour with Tour the Valley when their respective parents visit from the UK next year.  Jeff may even get to meet their German pointers one day too as he recommended next time they fancied a weekend up here, to stay at Wiggley Bottom Farm, a luxurious farmstay where they could bring their dogs with them.
If you would love a tour like Lucy & Barnaby's – just get in touch letting us know what you'd love to experience here in the Yarra Valley and or Dandenong Ranges and we'll soon have a great personalised itinerary worked out just for you.