Jasmine and 5 friends escaped for a weekend in the Yarra Valley without children and husbands
Jeff collected the group from their Healesville accommodation at 11am for their half day tour and suggested he first off take them up to Maroondah Reservoir to enjoy the view from the top of the dam wall.
After communing with nature, Jeff set off for Innocent Bystander as he knew the group were fans of sweeter wines and moscato.  The tasting counter was 3-deep at the bar with tourists enjoying a wine tasting, so the group settled themselves on some comfy sofas and enjoyed a delicious glass of Moscato.
It was lunchtime by now already so the group headed to Tokar Estate Winery to have a quick wine tasting before their 2-course lunch – steaks were the order of the day and they went down a treat!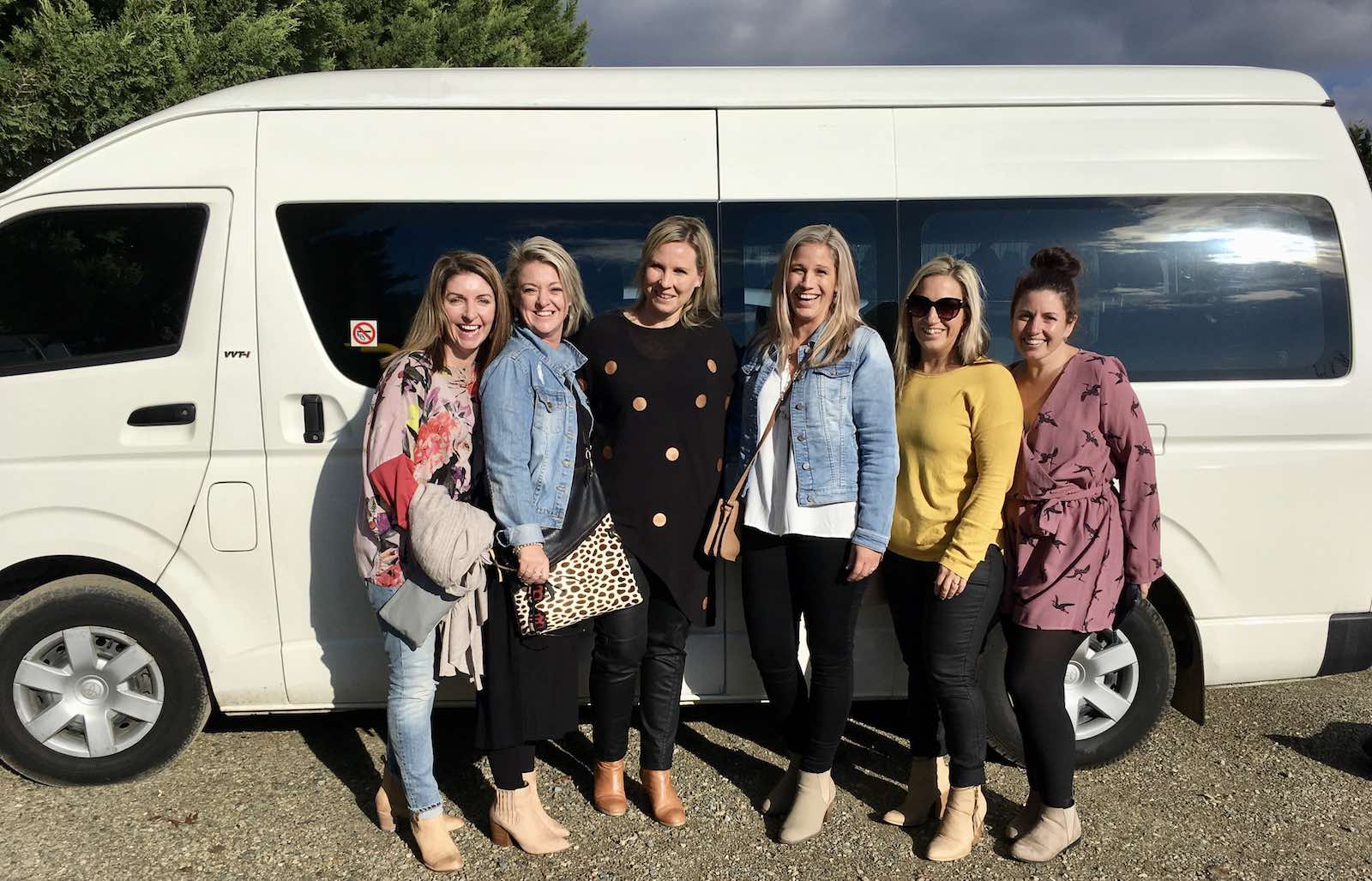 Knowing they had a sweet tooth, Jeff rang ahead to Badger Creek Blueberry Farm to make sure owner Ali had some delicious home-made desserts to tempt the group and hearing that her bread and butter pudding was just coming out of the oven (made with croissants – yum) he pointed the van in the direction of Badger Creek and took the girls for a blueberry wine tasting, as they have a moscato style blueberry wine he knew they'd like.  They were thrilled with their tasting especially as there was also Ali's baked cheesecake on offer, so they took their desserts out onto the cellar door patio to enjoy in the sun.
Given by now it was mid afternoon in winter, the sun was starting to lose its warmth and Jeff knew they had half an hour left before the sun would start to set, so he took the group up to TarraWarra Estate where he knew they would love the opportunity to sit on the pepper tree deck, with a glass of something as the sun sank behind the hills of Long Gully.  The girls bought a bottle of TarraWarra's sensational Blanc de Blanc and did just that – they were quite awed by the view, out over the vines, the dam, and the delicate pastel shades the sky was turning as the sun set.
A pretty good end to a great day – and as the girls were having an early dinner back at Innocent Bystander Jeff offered to drop them straight back there, rather than at their accommodation, so they could enjoy another glass of Moscato before enjoying dinner. This kind of flexibility is possible when you're on your own private tour and the group loved being able to change their minds or plans and it not being a problem.
Leaving partners and children (and all your daily routines and responsibilities) behind for the weekend, even if it's once a year, is really good for your health and wellbeing.  Stress levels decrease, laughter levels rise, your brain is stimulated with all the new experiences of an unknown region you're exploring and you really go home feeling refreshed and reinvigorated – inspired by what you've learned, tried, tasted and seen.
Let us put together a similar tour for you and your friends – just fill out our tour enquiry questionnaire and we'll be in touch with some ideas so we can work out a great day tailored to your group, like we did for Jasmine.