Nothing beats quality time spent laughing with your girlfriends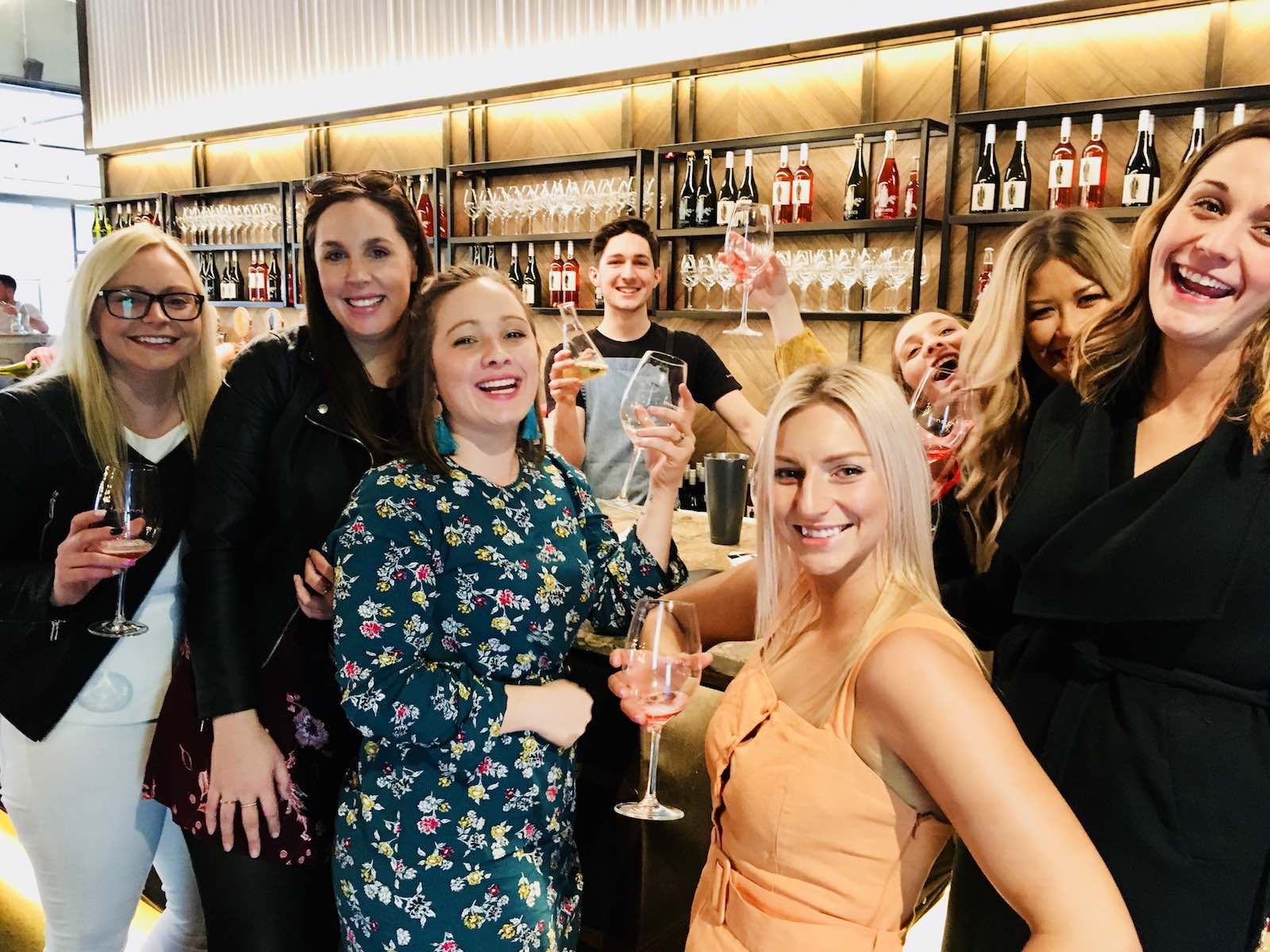 Even the staff at Innocent Bystander joined in with the hilarity
Chantel organised a group of 7 of her girlfriends to spend a weekend in the Yarra Valley together as one of them had recently moved out here.  And she sensibly organised a private full day tour with Tour the Valley so they could explore the region and try as many wines and ciders as they wanted, safe in the knowledge that their driver would organise everything, know the way, and get them home safely at the end of a fun day.
So Jeff collected the group from their accommodation and took them for their first tasting of the day, just around the corner, to Badger Creek Blueberry Farm. They were fortunate enough to have Erik, owner and winemaker, serving them and who explained the process of making wine from blueberries.  The girls all enjoyed a glass and as you can see from these two photos, it got the tour off to a great start – so much so, they couldn't all keep their eyes open in any one photograph!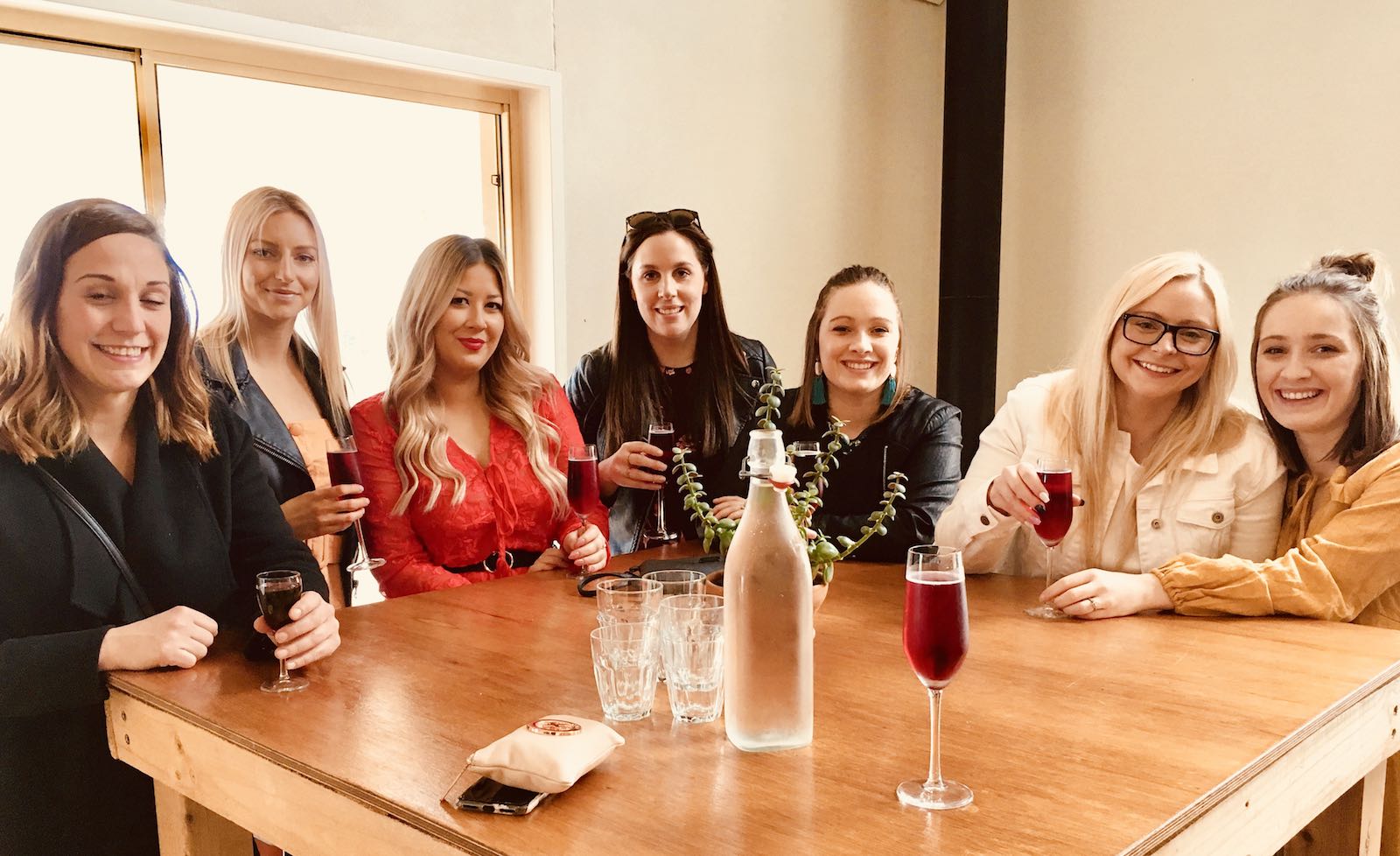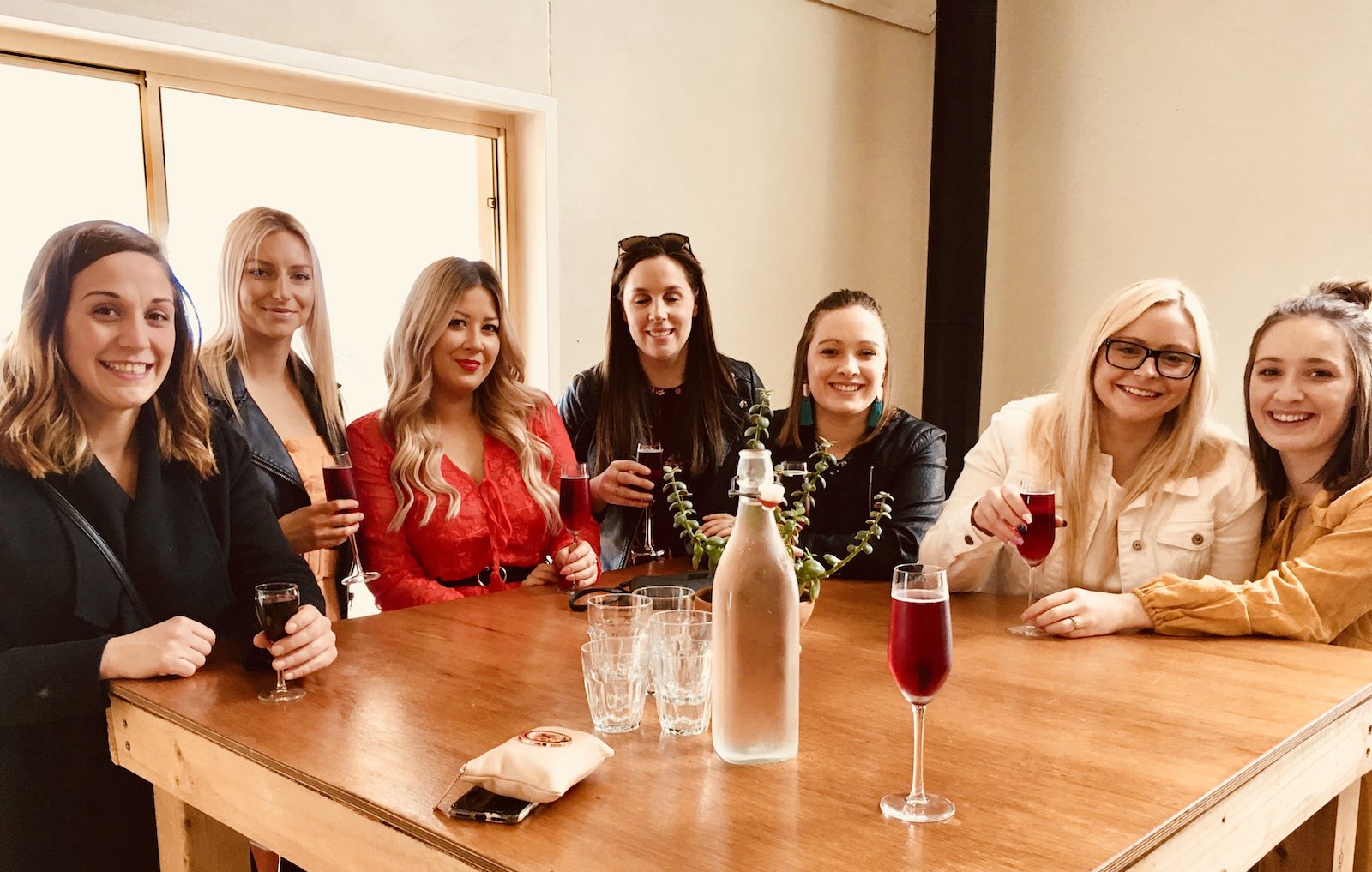 After they'd finished their blueberry wines Jeff drove them for their next tasting to Helen & Joey Estate winery, relative newcomers still in the valley but making a big name for themselves and not just because they have a unicorn called Bruce!  Their wines are award-winning as is their view too!  And cellar door manager Stephen Powell gave the group a fantastic and informative wine tasting and Jeff took them out onto the deck to meet Bruce and be photographed with him – he is pretty photogenic after all!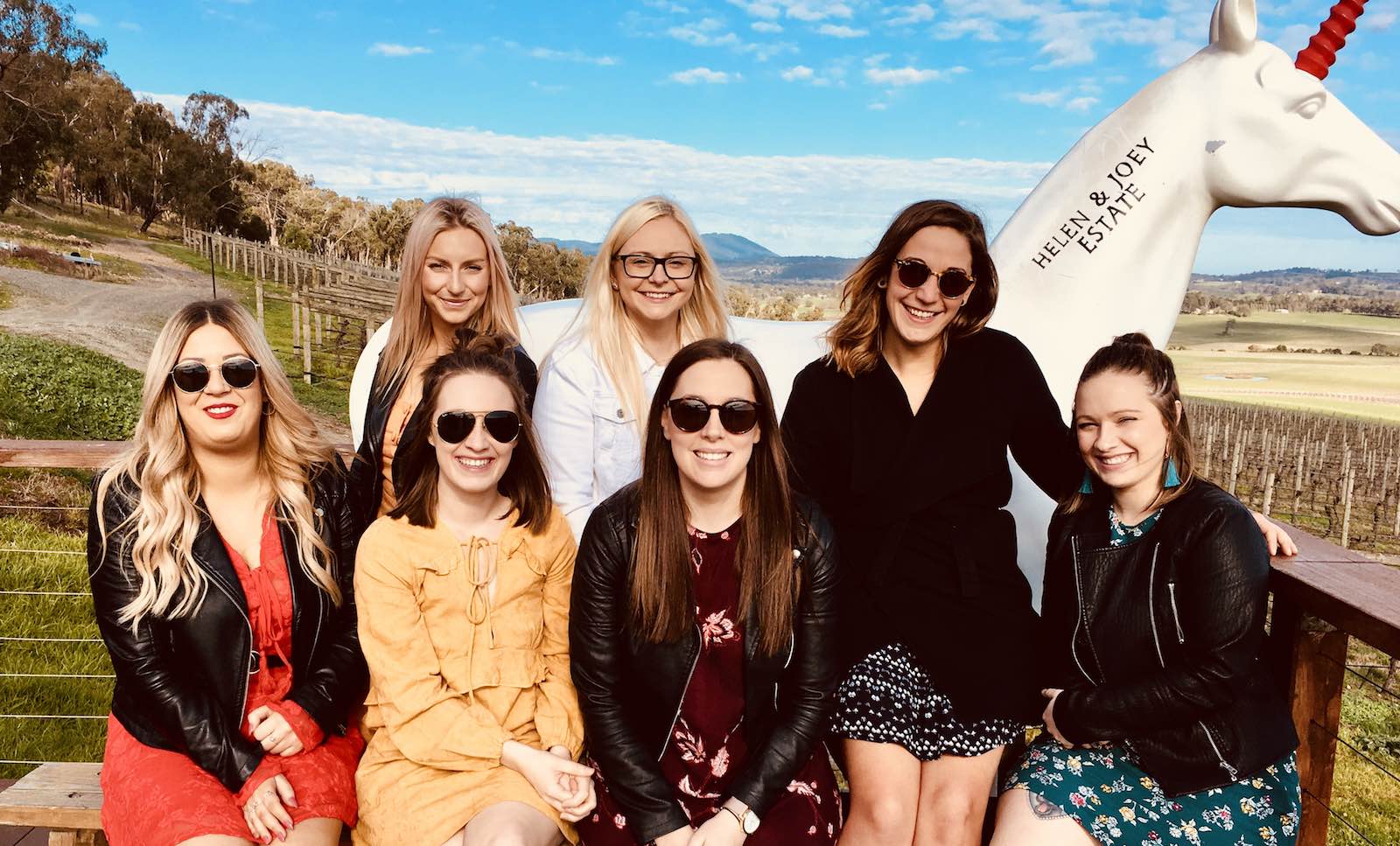 After cuddles with Bruce it was time to make their way into Healesville to Innocent Bystander where they had a wine tasting booked in before a sumptuous lunch of wood-fired pizzas and their infamous hot chips.  The staff got into the spirit of things and had as much fun as our group did – as you can see from the feature image (see top of blog)!
Their next tasting was at St Huberts winery where cellar door hand Jake wowed the girls, with his wine knowledge and just himself in general.  They were very taken with him, his wines and the lovely setting and the sun was shining which was kind (you never know what hand the weather is going to deal you in July in the Yarra Valley).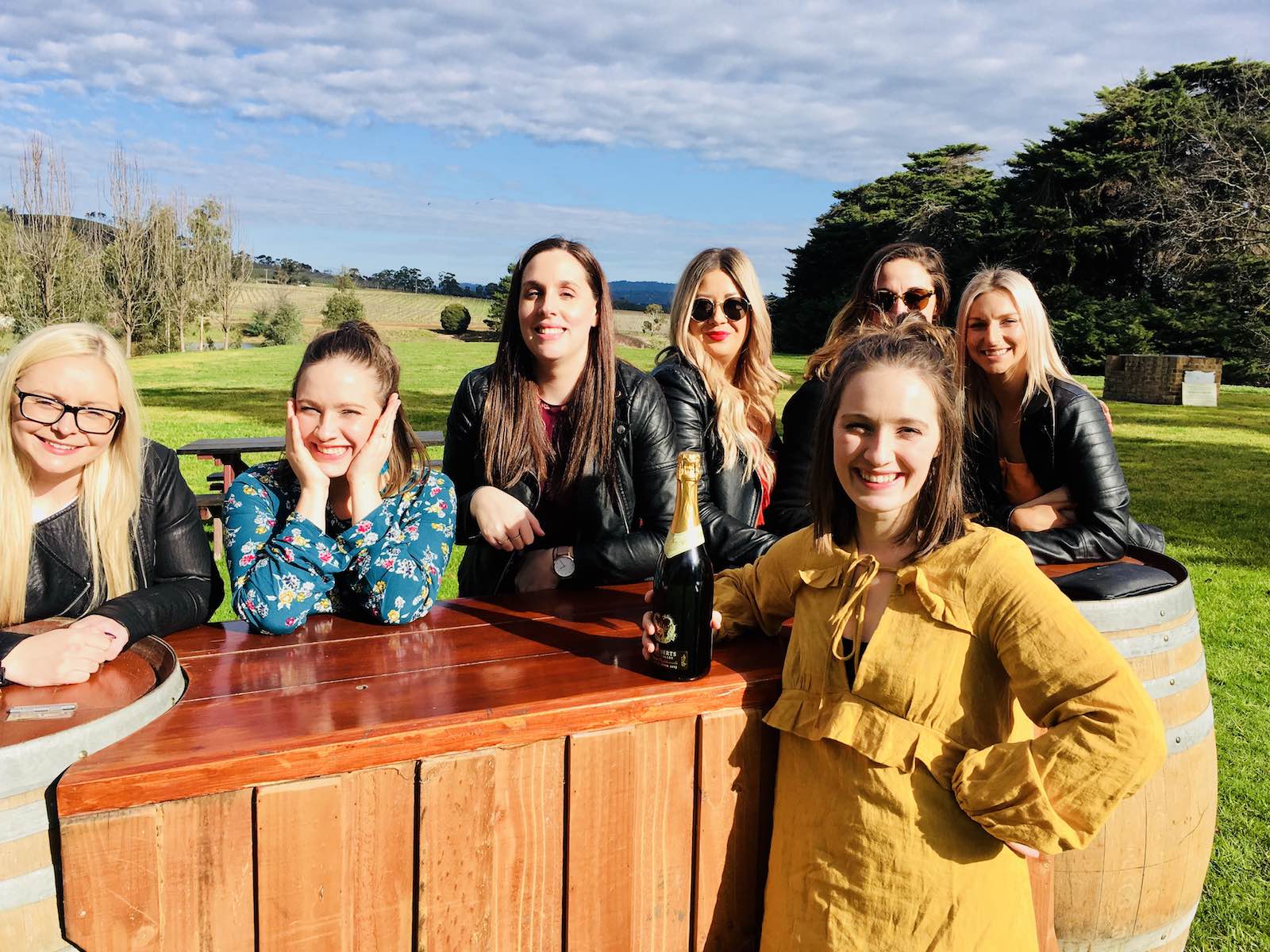 Running a little early, they then set off for their next wine tasting booked at Greenstone Winery over in Steels Creek, famed for its staggering views out to the mountains.  But after a couple of wine tastings the group said they were ready for a change of scene and asked if they could move on and maybe find a pub!  And that's the beauty of being on a private tour – you can put in requests, change your mind, stay longer, leave earlier, miss places out, add places in – after all it's your day.  So Jeff obliged and drove them over to The Grand Hotel in Healesville – where they caused quite a stir as they walked into the public bar where the locals were glued to an AFL game on TV!
After a drink in the local, the friends asked Jeff to help them buy some supplies for dinner that night and that's where having a local tour guide driving you is such a bonus, as Jeff knew just where to take them to get charcoal chicken for their dinner!  Imagine trying to get this kind of treatment on a public wine tour!  And as two of the girls went in to buy chicken, the rest of the group had a bus karaoke moment – much to the delight of everyone else in Coles carpark!
So, once supplies had been got for the evening, Jeff drove them back to their accommodation, singing, happy and likely to continue long into the night, having had a ball!
If reading this has whet your appetite and you would like to discuss a private days' tour in the Yarra Valley, give us a call on 0493 294 608, and let's have a chat about where you'd like to go and what to see and do.