This was Harvey's first wine tour and Tour the Valley's first doggy wine tour!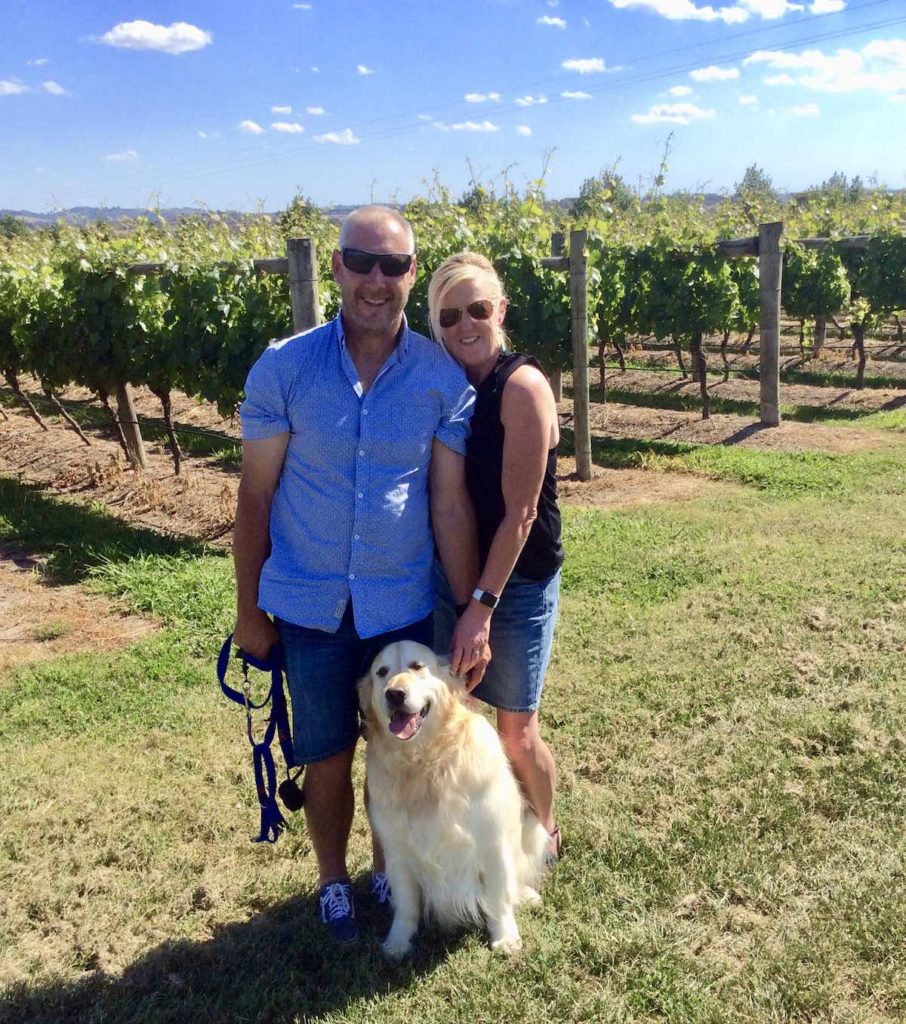 Harvey was beautifully behaved and made friends everywhere we went
Kelly was looking for a wine tour to help celebrate her husband Philip's birthday but she wanted a dog-friendly wine tour so that Harvey their beautiful golden retriever could come along too.  We were happy to oblige as we're dog lovers and have had dogs our whole lives, so we worked out a great itinerary for them at all the dog-friendly venues we have between Macclesfield (where we were collecting them from) and in and around the Yarra Valley.
Being over on that side of the valley, we took them for tastings at Morgan Vineyards in Seville East and Killara Estate and Harvey got into his stride and seemed very happy watching the world go by from his dog bed in the car and then checking out all the smells at the various cellar doors we arrive at.
For lunch Kelly and Philip enjoyed a couple of cheese and charcuterie platters at Medhurst Wines washed down with a bottle of their gorgeous new release Rosé. We sat outside as it was such a beautiful day on the lawn high up on the hill overlooking the vines below, with Harvey content under the table watching all that was going on around him.  Medhurst has only recently re-opened after undergoing an amazing refurbishment and it was the perfect spot to enjoy a relaxing lunch (plus their wines are sensational).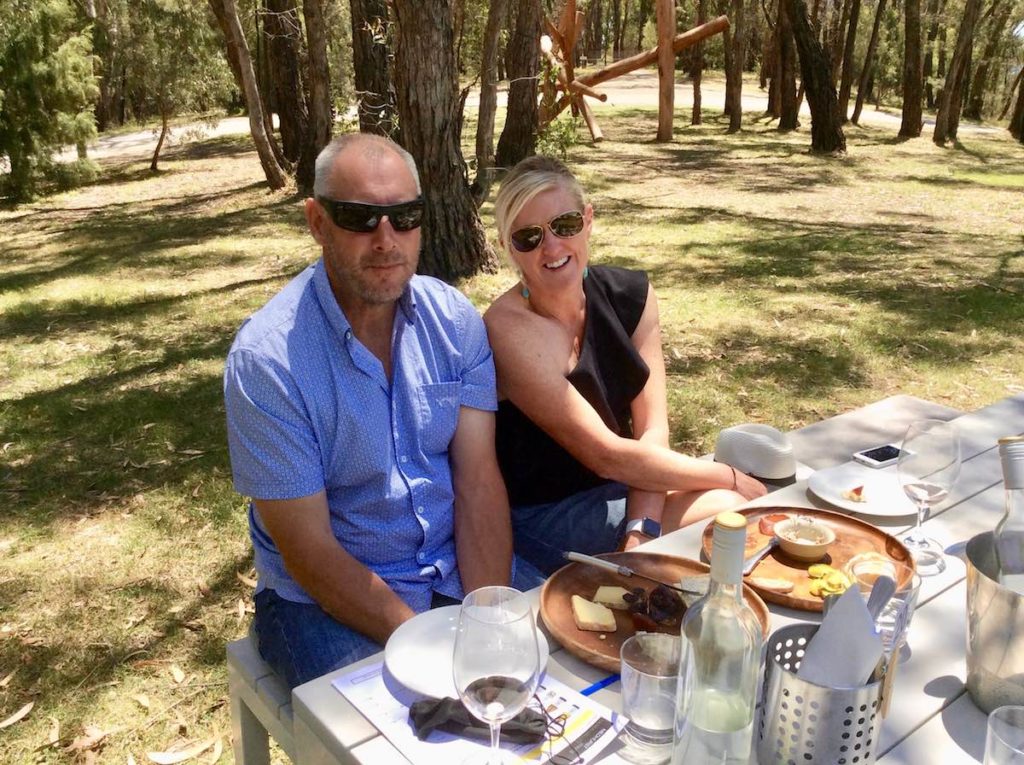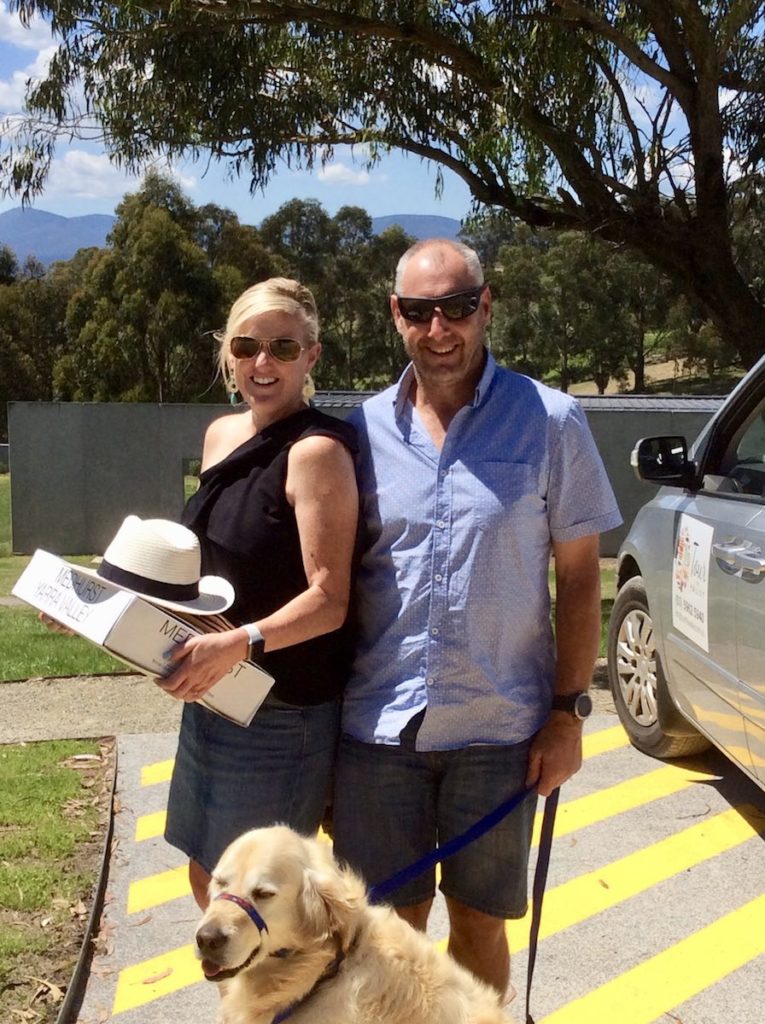 Our next dog-friendly cellar door we visited was Squitchy Lane, a stone's throw from Medhurst – a lovely boutique cellar door with a great story behind its name (the owners used to meet when they were courting at Oxford University in England in Squitchy Lane, between their two colleges).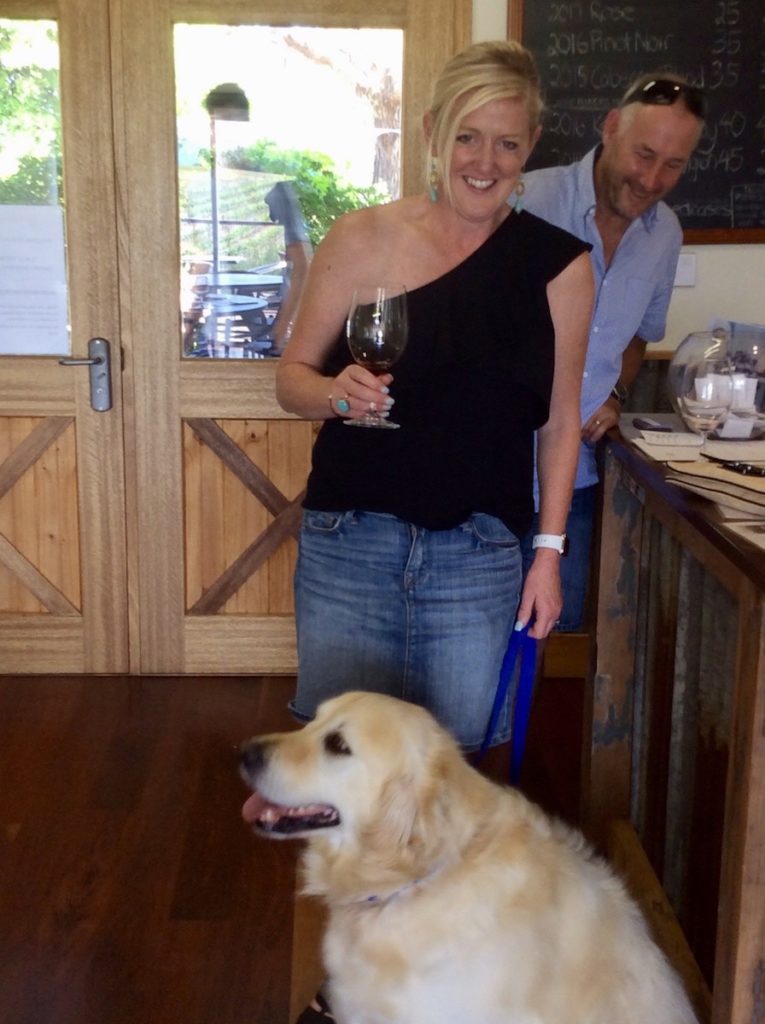 Next we took Kelly and Philip (and Harvey of course) to Maddens Rise another beautiful tiny cellar door where Harvey was greeted like a long lost friend by Emma when he arrived.  As you can see from the photo, Em loves dogs and made a huge fuss of Harvey while his owners enjoyed a sensational wine tasting of all Maddens Rise's new releases.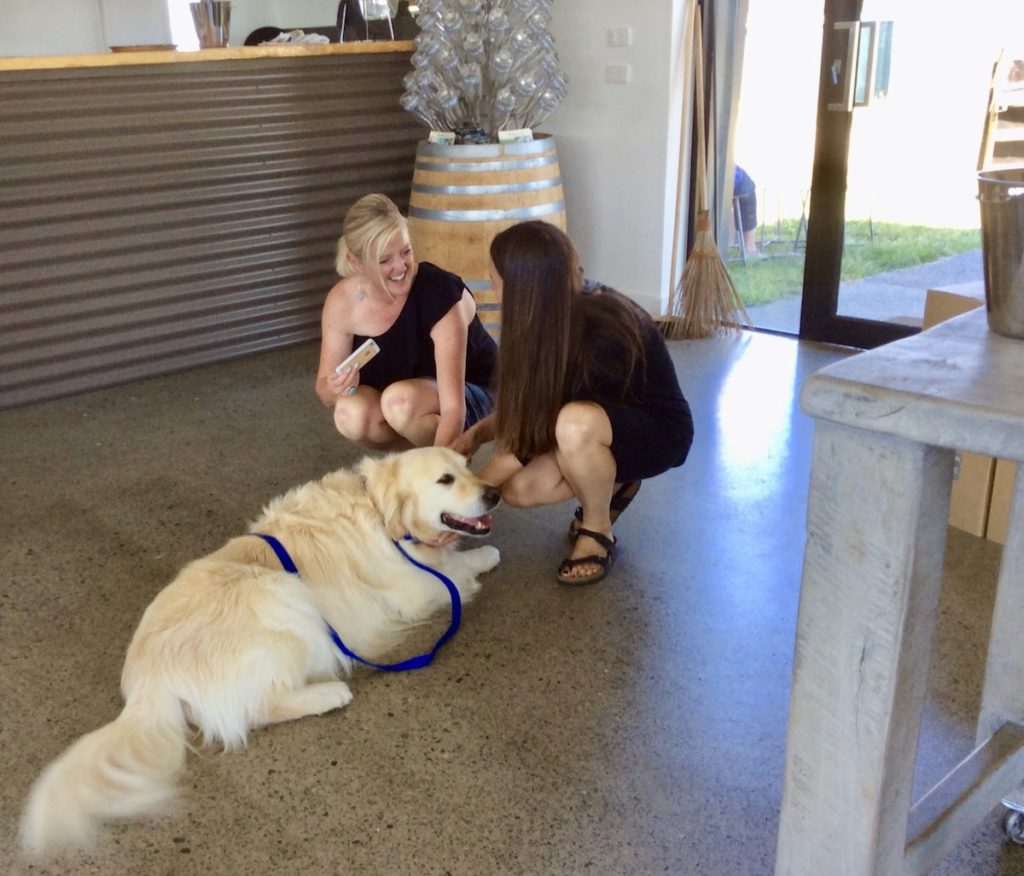 After farewelling Emma, to shake things up a bit we then took the happy family off to Meletos to have a Napoleone cider/beer tasting paddle.  While Harvey didn't partake in a tipple, he did love having his photo taken and meeting so many people who were delighted to meet and pat him.
All in all a very pleasant day out – Kelly has beaten us to it and we've seen she's already left a brilliant review about her doggy wine tour with us – and likewise, we loved the day too and would be happy to have Harvey on tour with us any day.
If you have a well behaved gorgeous dog who you'd like to bring on your personalised tour of the Yarra Valley, email us and let us know and we'll put together a great dog friendly itinerary like the one above for you.